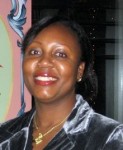 When Rita Apaloo moved to the US, she began to feel the stresses that are experienced by most immigrants. As she interacted with fellow African women, she realized that her experiences were not in isolation. Thus the birth of African Women Connect (AWC), in 2004. In the beginning Apaloo held informal meetings at her house where she connected with other African women.
According to Apaloo AWC aims to create a network to empower women of African descent, linking them to valuable resources and promoting partnerships that strengthen individual and common success.
While the needs for African immigrant women are not peculiar to the African woman, AWC hopes to fill the void created when individuals who have left their communal society in Africa. AWC hopes to tell the African story from the African perception since the world's view of Africa is warped in war and strife.
According to AWC Chair Apaloo, "AWC's role is to provide opportunities to connect African women to find their collective voice and build a stronger community. The opportunities include organized events, collaborations with organizations in the community and the use of our online presence to publish stories and information important to African women."
At a dinner in Minneapolis, at the end of January, a group of women gathered to discuss ways in which they could connect with the African community. AWC invited Jamie Morrow, the Vice President of United Way's Community Emergency Assistance Program (CEAP). According to Morrow, there is a continual need for emergency assistance to the public. Many individuals have to make tough survival choices: between spending their limited income on food, paying rent, medical and children needs.
CEAP tries to fill this gap by providing meals and clothes to the families in the need. With the increase in New Americans in Minnesota, CEAP's food shelves have new requests– to provide ethnic foods. One of the biggest barriers, as indicated by Morrow, is storage for fresh foods such as vegetables as this is the biggest request by African immigrants. Since, it is not practical to store these, what with limited space, Morrow encouraged AWC members to donate tinned/packaged ethnic foods to meet this need.
Apaloo promised to organize an ethnic food drive every year. Alice Tindi, a social worker at the Center for Victims of Torture, urged CEAP to continue working on policies to ensure that individuals of little or no income would receive loans given by (CEAP) services.

Wokie Freeman, one of the founding members of AWC, asked the members of the AWC to reach beyond their country boundaries and work together in finding solutions to the problems that face African immigrant women. Another AWC member, Wokie Johnson, who has also been profiled on AWC's website testifies about the satisfaction her work as her nurse in the community. She says, "Many African patients regard me as a force on their side– that I would better understand their situation and trust that I would help them navigate the system."

Apaloo, in her address to the about 50 women that attended the dinner gave a heartwarming narration about brides in India whose husbands, who lived in the Diaspora, were taking advantage of them. However, each of these women thought their story was unique until one of them made her story public.
Apaloo demonstrated the need for women to unite so that they could have a stronger voice.

For more information on CEAP, please visit their website at http://ceap.org
To subscribe to AWC, and to read more about their services, please visit www.africanwomenconnect.com






(No Ratings Yet)


Loading...