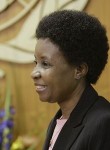 Her academic brilliance, high moral integrity and a long resume of public service will serve well Dr. Asha-Rose Migiro, the new U.N. Deputy Secretary General, a former student of hers said.
Makau W. Mutua, an international lawyer, professor and head of the Human Rights Center at the State University of New York, Buffalo, said Migiro is person dedicated to improving Africa's tarnished reputation of governance.
"The most important thing here is not that a woman or an African has been appointed," said Mutua in a telephone interview. "What matters is the kind of person that has been appointed. She is the new face of Africa and represents a shift of leadership in Africa."
Mutua, who was Migiro's student at the University of Dar es Salaam Law School in the early 1980s, described that breed of African leaders as consisting of politicians aware of the enormous challenges that the continent faces. Such leaders, Mutua said, are dedicated to dispelling the long-held Western myth that African leaders are corrupt.
Mutua's defense for her former teacher comes at a time when some Western media have stated or implied that Migiro's appointment will frustrate much-needed reforms at the United Nations. The Times of London, for example, said of U.N. Secretary General Ban Ki-moon's Jan. 5 appointment of Migiro as an "widely regarded as a blow to flagging hopes for reform of the organisation."
The Times' claim opened old wounds on Africa's reputation sustained from a story the newspaper ran in September. In the articles the newspaper claimed that South Korea was increasing aid to Tanzania, a Security Council member at that time, in an effort to woo the East African country to vote for Ban for the top job. On Internet discussion forums Africans have expressed their anger at The Times, some labeling the paper's claim as racist.
"So, here is my message to the Times of London, take a chill pill and relax! I could have used a different phrase (but the finger in question is busy!)," wrote one member of Africa-op-ed, an online forum.
Priscillah Mkenda, an Oakland, Calif. resident who hails from Tanzania said those in the West doubting the capability of Africans rely on stereotypes. Mkenda said Migiro would disappoint skeptics.
"She will show them that we are not as primitive as they think," Mkenda said.
Mutua called The Times' statement "unfortunate" and said he was sure Migiro would erase the corrupt African notion from people's minds.
"She has done it on the national level and she will succeed at the international level," Mutua said.
Before her appointment, Migiro served as Tanzania's Minister of Foreign Affairs and International Cooperation. She previously held the Community Development, Gender and Children portfolio. Before joining politics, Migiro was a professor of law at the University of Dar es Salaam. During her tenure at the university, she served as the head of the Department of Constitutional and Administrative Law from 1992 to 1994 when she moved to head the Department of Civil and Criminal Law.
In media reports, Ban has expressed confidence in Migiro and said he intends to "delegate much of the management and administrative work of the Secretariat, as well as socio-economic affairs and development issues" to her.
Perhaps her most challenging task will be to reform the United Nations. Reforming the organization has been a contentious issue between Western countries, especially the United States, which want a downsized organization, and the rest of the developing world preferring a more democratic United Nations with less Western control.
Mutua said he was sure Migiro would bring both sides to an agreement.
"Sure the U.N. needs to be reformed," said Mutua. "Dr. Migiro is a reform-minded person and she is capable."
Edwin Okong'o is a Mshale Contributing Editor. Formerly he was the newspaper's editor.





(No Ratings Yet)


Loading...