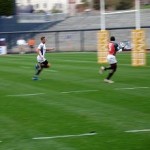 Upset Loss to U.S.A Cuts Short Celebrations for "Big Win" Over Australia
SAN DIEGO, Calif.—Kenya started the first day of the U.S.A Sevens competition with a 14-26 loss to England. Kenya's coach, Benjamin Ayimbe said he knew why.
"We woke up a bit late in the game and we couldn't catch up," Ayimbe said of his team's 14 points, all scored in the last half.
The coach then vowed that Kenya would not fall asleep in its next game against Australia.
"We are going to step up our tempo from the first minute," Ayimbe said.
He kept his promise. Kenya's Sidney Ashioya scored a try in the first 26 second of the game, sending Kenyan fans jumping off their seats, shouting in sync, "We want another one, just like the other one."
But before Kenyan players could add another one, as requested by their fans, Australia's Luke Milton responded with one, tying the game at seven.
In the second half, Kenya dominated Australia, scoring 14 more points and winning he game, 21-12.
"It's a big win," Ayimbe said. "We are definitely going of a quarterfinal slot. That has to happen by us beating America."
It seemed like Kenya's most difficult task of the day was over. After all, they defeated the Americans in the same tournament last year. Little did the Kenyans know that this year Americans came to play ball.
Kenyan and American fans, who earlier joined hands in cheering each other against Australia and England, their archrivals in Pool C, found themselves on the opposite sides.
The march started with Kenyan fans shouting, "Let's go, Kenya, let's go," so loudly that they drowned the Americans' chants of "U.S.A, U.S.A."
A try by U.S.A's Jone Naqica silenced the rowdy Kenyans. The Americas would score 19 points in the first half. Kenya scored none.
Kenyan fans, who were by now on their feet and remained so for the rest of the games could not believe their eyes.
"What is happening?" shouted Roy Wanjohi, desperately.
In the second half the Americans let Wanjohi know what was happening by scoring 14 more point to Kenya's five.
"It's all over. Its all over," an American fan shouted.
U.S.A won the match, 33-5.
Kenya's fans were shocked.
"It's a bad upset," said Steve Olago, who traveled from Washington D.C for the competition.
Another Kenyan fan, Boston, Mass. resident, Macharia Ngugi said he was disappointed that Kenya would do so well against Australia and lose to U.S.A.
"I was shocked," said Ngugi.
Edwin Okong'o is a Mshale Contributing Editor. Formerly he was the newspaper's editor.





(No Ratings Yet)


Loading...