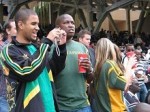 SAN DIEGO, Calif.—The South Africans' day at the U.S.A Sevens began brighter than the sunny Saturday in San Diego.
 
They thrashed Portugal, 33-0 in their first game of the tournament, with five of their players scoring a try each. A 19-0 win over Tonga made South Africa the only team in the tournament not to concede a try in its first two games.

"We beat Tonga," said Grant McKinstry of Cape Town, South Africa, when asked to predict the outcome of his country's last game of the day. "I think we've got a pretty good chance to beat Samoa. Scotland we'll definitely beat, then we'll get close to the final."
But Paul Treu, South Africa's coach knew it was not as simple as McKinstry put it.
"When you play any Pacific Island team, it's always going to be a physical battle," said Treu before the match.
Samoa proved Treu right by beating South Africa, 21-14.
"We were in a difficult pool," Treu said. "You never know what to expect, especially in the sevens. It's so much difficult, even for a big rugby-playing nation like ours."
Edwin Okong'o is a Mshale Contributing Editor. Formerly he was the newspaper's editor.





(No Ratings Yet)


Loading...