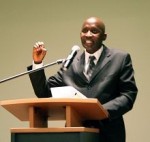 ATLANTA – The highly anticipated convention of Diaspora Kenyans to discuss what they can do to help their country's economy began yesterday at Kennesaw State University in the Atlanta metro area.
There conference opened with a presentation by Dr. Olubayi Olubayi, a professor of microbiology at Rutgers University who presented his paper, "The Emerging Culture of National Unity in Kenya." Olubayi argued that unlike the generation before them, younger Kenyans do not identify themselves based on ethnic origin. Instead, they look at commonalities, a trend that is reducing tribalism, he said.
"People don't support leaders just because they are from the same ethnic groups," Olubayi said. "The leader of the Opposition, a Kikuyu, criticizes the president, who is also a Kikuyu."
Many in attendance, however, disagreed with him, saying that tribalism was still very prevalent in Kenya.
"Political parties are still very tribal," said Eric Masinde Aseka, a Fulbright scholar at the university.
Dubbed "The Role of the Kenyan Diaspora in Kenya's Development," the two-day convention is seen by many as an attempt by Kenyan government officials and businessmen to woo Kenyan's abroad to invest home. Among the speakers are Amos Kimunya, Kenya's Finance Minister, and Jimnah Mbaru, the Chairman of Nairobi Stock Exchange.
Earlier this month, Kenya's Vice President Moody Awori said Kenyans in the Diaspora sent home remittances totaling more than $1 billion. The money accounted for 10 percent of the country's national budget.
The Institute of Global Initiative at KSU sponsored the conference, said Hana Njau-Okolo, the event's press officer. Every academic year the university chooses a country for interested students to study. The 2006-2007 was Kenya's year.
Edwin Okong'o is a Mshale Contributing Editor. Formerly he was the newspaper's editor.





(No Ratings Yet)


Loading...