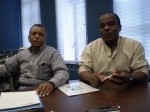 The event which is likely to attract large crowds of people from the Swahili culture and those intent on learning Swahili as an emerging African international language spoken by over 100 million people will be held at the Sabathani Community Center on 310 E, 38th Street, Minneapolis.
During an interview with this reporter, Professor Earl P. Scott of the Department of African American & African Studies, said the Swahili Open Day is an occasion "to celebrate the return of Swahili instruction at the University of Minnesota with community activities, basic Swahili instruction and a talk by Dr Karenga (founder of Kwanzaa) about language as a way of mediating differences and celebrating culture." Dr Scott was accompanied by Angaluki Muaka, the new Kiswahili Teaching Specialist hailing from Kenya and a holder of a BA in Swahili and Arabic from the University of Nairobi and MA in Arabic from the University of Khartoum.
Before joining the faculty of University of Minnesota, Mr. Muaka taught Swahili as a foreign language at Indiana University and Stanford University until last year when he moved to Minnesota.
"I am trained in various aspects of foreign language pedagogy, especially under the auspices of the National African Language Resource Center at the University of Wisconsin, Madison, and the American Council on the Teaching of Foreign Languages (ACTFL)."
Mr. Muaka has published a Swahili novel, "Ushuhuda wa Mwanachuo," and several scholarly articles. He proudly asserts: "Swahili is one of the most widely spoken, taught and broadcast African languages in the world and the most widely used in Eastern, Central and Southern Africa. It is a language of administration, business, and scholarship."
Swahili is one of the official working languages of the African Union because of its widespread use in countries like Tanzania, Kenya, Uganda, Rwanda, Burundi, the Democratic Republic of Congo, Mozambique, Zambia, Malawi and other neighboring countries. African Americans have "adopted it as the language of their heritage, making it arguably the most popular African language in the US", endorses Mr. Muaka.
Mr. Muaka's research interest is in comparative studies between Swahili and Arabic, and the use of literature and technology in the instruction of advanced levels of Swahili and Arabic.
Professor Scott told this reporter that his Department "is one of only a few departments in the United States that allow students to examine African American, African and African Diasporic studies; to have access to (4) major languages; and to prepare for a number of learning abroad opportunities in Africa, the Middle East, the Caribbean and Latin America."
The Department fully integrates African American and African studies and Middle Eastern languages into its curriculum and learning abroad opportunities. It prepares students intellectually to examine and participate in an ethno-national culture and for world citizenship. Languages taught include Arabic, Swahili, and Hausa.
Since his arrival here, Mr. Muaka said he has seen Swahili begin to blossom. "We offered two sections of beginning Swahili for fall semester, and they filled quickly without our needing to advertise them," he said. Swahili students come from a wide variety of backgrounds, both culturally and academically. They include white and African Americans and "heritage learners," students whose parents are native Swahili speakers. Many of them are planning to do field work in east Africa in nursing or public health, or are majoring in global studies or history. Muaka explains, "We expect enrollment to continue to grow, and hope to offer intermediate classes next year, and advanced Swahili the year after that."
Swahili is being re-introduced at the University of Minnesota after it remained shelved when a former instructor retired and funding became unavailable. This time around, all indications are that the teaching of Swahili will be energized.
Swahili Open Day is a way for the University to connect with the community, and vice versa. "We're having this event in the community because it's important to have an exchange and dialogue outside of campus," said Scott. "We want people in the community to come visit with us, to learn about our mission, our language classes, and opportunities for our students to study abroad."
At a Glance
What: Swahili Open Day
Where: Sabathani Community Center, 310 E 38th St., Minneapolis
When: Saturday, April 21, 3:00 – 6:00 p.m.
Who: Dr. Maulana Karenga, creator of Kwanzaa, plus students from the University of Minnesota Swahili program
How: Free and open to the public

Swallehe Msuya was a senior staff writer at Mshale with extensive media experience in his native Tanzania. He was a general assignments writer. Investigative stories that Mshale undertook were normally his responsibility. Swallehe passed away in Sept. 2009 at the age of 61. Mshale will forever miss his tenacity and wisdom.





(No Ratings Yet)


Loading...