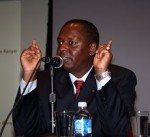 Minister Tickles Funny Bones in Atlanta, Booed in Minneapolis
ATLANTA – In an apparent attempt by the government to woo the Diaspora to invest in Kenya, Finance Minister Amos Kimunya told his fellow citizens abroad to put their money to work in their motherland, which he said had undergone tremendous economic growth.
The minister was speaking at a convention at Kennesaw State University in the Atlanta metro area where Kenyan leaders, business owners and citizens in the Diaspora met on March 23 for a two-day conference to discuss how they can improve their country's economy.
"A great chance exists for Kenyans to own the companies that do business in their country," Kimunya said.
The minister said Kenya had changed a great deal since 2002 when a coalition of parties led by President Mwai Kibaki defeated the KANU government that had been in power for nearly 40 years.
"We need you to start saving from wherever you are and translate those savings into investments," Kimunya told the crowd.
As he would through most of his speech, Kimunya caused prolonged laughter when he asked Kenyans not to build huge houses in rural areas, which they only use on the rare occasions they visit home.
"Some people are pressured to build mansions in coffee plantation just so relatives can say, "Mtoto alienda ng'ambo (we have a son overseas)," he said, as the room exploded with cheers and applause. "Why not build the house in the city and rent it out to make money instead of paying one person to circle the house every day cutting grass?" Kimunya asked, followed by more laughter.
Kimunya suggested that members of the Diaspora ask their relatives to start small businesses instead of spending all the remittances.
The Kenyan government's efforts to court the Diaspora came upon realization that Kenyans abroad sent home more than $1 billion in 2006. Remittances have been a key factor in boosting the country's growth since 2003. In 2006, Kenya's economy grew by 5.6 percent, up from averages less than 1 percent in the years preceding 2003. Last year the government was able to fund the budget with 93 percent of locally generated revenues. Ten percent of that was money generated by sales taxes and dues from small businesses started by capital from remittances.
The idea of money sent from abroad fueling a country's economy is not new, but has been brought to light in Kenya since Kibaki took power. His government's vigilant record keeping and establishment of an aggressive tax collection system is credited with the discovery.
Investment in the country's stock market has also risen due to what Kimunya called "the feel-good factor" that drove Kenyans to invest upon KANU's fall. The number of shares traded in the Nairobi Stock Exchange rose sharply from 381 million in 2002 to 1.4 billon in 2006, according to Chairman Jimnah Mbaru.
Kimunya called on Kenyans to be optimistic and focus less on the past and more on where the country is headed.
"It's like driving a car," he said. "There is a windshield in front of you, and a rear view mirror. While the rear view mirror is important, you can't spend most of your driving time looking at it."
Increase in freedoms of speech and the press was another factor that should drive Kenyans home, Kimunya said.
"People can now stand on the streets and call the president names" without getting in trouble, he said.
The number of media outlets in the country has been upward since 2002. For example, Dr. Bitange Ndemo, the permanent secretary in the Ministry of Information and Communication said the number of radio stations rose from five in 2002, to 70 in 2007.
On the issue of corruption, which has been the main culprit of Kenyan economic drawback, Kimunya said the government was doing all it could to reduce the vice. He didn't give details, but said arresting and prosecuting offenders was not the best solution.
"You can round people up and hang them, and some countries have done that, but corruption will still be endemic," he said. "What we are doing is closing the gates" to prevent future corruption.
That, the minister said, doesn't mean Kibaki's administration is extending amnesty to those who stole or continue to steal from the government.
Kimunya stayed away from addressing the issue of security, a major concern of Kenyans. In recent months, Kenya's major dailies have given stories of crime major play. No one brought the matter up in the question and answer session that followed Kimunnya's speech.
Kenyans in attendance had mixed reactions to Kimunya's presentation. Kelvin Ngige said that while Kimunya did a great job outlining the number of investment opportunities, he wasn't pleased with the way the minister said the government was handling corruption.
"He should have explained in depth what mechanisms the government has in place to stop things from falling through the cracks," Ngige said.
Celestin Ogwel agreed. "I think the minister is in denial about corruption," Ogwel said.
Edward Njoroge, who left Kenya before Kibaki's government took over and hasn't been back since, said the minister assured him that his money would be safe if invested in the country. When asked whether he believed Kimunya, Njoroge said though he had to be skeptical of all politicians, he was willing to give Kimunya a chance.
"I don't know a lot about the minister," Njoroge said. "But I will trust him until he gives me a reason not to."
Representatives of the private sector in Kimunya's delegation included real estate and property management companies, Housing Finance Corporation, Capital Partners, Old Mutual and NW Realite Ltd. Equity Bank and Barclays, whose employees constantly engaged in signing up new customers, represented the banking sector.
Also present in the conference were several scholars, among them Dr. Paul Tiyambe Zeleza (University of Illinois, Chicago), Dr. Olubayi Olubayi (Rutgers University, NJ), Dr. Kefa Otiso (Bowling Green University, Ohio) and Dr. Eric Aseka (Kenyatta University and Fulbright Scholar at Kennesaw State). The professors presented papers recommending several remedies to Kenya and Africa as a whole.
The conference was the brainchild of the Institute of Global Initiative at Kennesaw State University, led by Dr. Akanmu Adebayo. Every year the Institute chooses a country for interested students to study. For the 2006-2007 academic year, Kenya was the country of focus.
From Atlanta, Kimunya and his entourage took the same message to the Edge Christian Worship Center in Minneapolis, Minn., where hundreds gathered to listen to him. Like their countrymen in Atlanta, the Kenyans in Minneapolis received the minister's message well. However, during the question and answer period, many disapproved Kimunya's denial that the state of security in Kenya was getting out of hand. They uncontrollably jeered and booed him for more than a minute.
The difference in feedback between Atlanta and Minneapolis was perhaps because the latter has more Kenyans opposed to Kibaki's regime. Raila Odinga, an Opposition presidential aspirant, received a hero's welcome when he visited Minneapolis earlier this year.
Robert Nyagudi was dismayed by what he said was the minister's insincerity.
"It's important that the members of the government dialogue with us in honesty," Nyagudi said.
Others like Anne Kemunto were embarrassed by the lack of respect and regard the hecklers showed the minister.
 
"Even if the minister was not honest, this was an investment meeting," Kemunto said.
"I am afraid many individuals in the audience politicized it."
Mshale's Julia Opoti contributed to this report.
Edwin Okong'o is a Mshale Contributing Editor. Formerly he was the newspaper's editor.





(No Ratings Yet)


Loading...