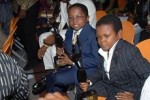 It was a night to remember. Saturday the 10th of March 2007 Bayelsa State (also known as the Glory of Lands), Nigeria hosted the main players in the film industry from the continent.
The 3rd edition of the African Movie Academy Awards (AMAA) took place at the Gloryland Center, Yenagoa Bayelsa State. Yenagoa, a city in the oil rich Niger Delta region of the country has gradually projected itself as a tourist destination with the caliber of national and international guests AMAA hosts each year. Last year, some of Hollywood's finest like Vivica Fox and Lou Gossett Jr. came to join Africans in celebrating the brilliance of the Nigerian Movie Industry. This year it's gotten bigger and better, at the moment the Nigerian Movie Industry a.k.a Nollywood is the 3rd largest in world after Hollywood and India's Bollywood.
Nigerian movies have been a source of home entertainment not only for the local market, but also for Africans on the continent and in the Diaspora. One of the largest cable operators in Africa some years ago created a TV channel specifically to satisfy the demand by subscribers for Nigerian and African produced movies.
AMAA 2007 was keenly sponsored by corporate bodies and the organizers this year decided to expand the scope and vision of the awards by unveiling more categories to cover all of Africa as well as rewarding winners with cash gifts of up to $50,000.
Nominees for the awards this year included a winner from a Nigerian TV reality show, the son of one of Nigeria's best movie directors and quite a number of upcoming actors and actresses.
These are the Nominees and Winners of AMAA 2007
CATEGORY A- Best Nigerian Film (irrespective of language)
Apesin
Amazing Grace
Sitanda- Winner
Abeni
CATEGORY B- Best Cinematography
Abeni
Mokili (from Burkina Faso)
Amazing Grace –Winner
Sitanda
CATEGORY C-Best Indigenous Film
Apesin
Irapada-Winner
Abeni
Iwalewa
CATEGORY D- Achievement in Costume
Azima
Apesin-Winner
Amazing Grace
Bunny Chow (from South Africa)
CATEGORY E-Best Documentary Feature
Convenant Church
Conversations On a Sunday Afternoon (from South Africa)-Winner
Bitter Water Mara (from South Africa)
CATEGORY F-Best Visual Effect
Snake Girl-Winner
Explosion
Apesin
CATEGORY G-Best Performance by Child
Teco Benson Jr. (Explosion)
Samuel Olaseinde (Abeni)-Winner
Samadina Adinma (Speak the Word)
CATEGORY H- Best Edit
Abeni
Mokili (from Burkina Faso)-Winner
Amazing Grace
Sitanda
CATEGORY I-Best Original Soundtrack
Iwalewa-Winner
Sitanda
Bunny Chow (from South Africa)
CATEGORY J-Best Sound
Abeni-Winner
Amazing Grace
Sitanda
CATEGORY K-Original Screen Play
Sitanda-Winner
Maroko
Dancing Heart
Azima
CATEGORY L- Achievement in Make up
Maroko
Azima-Winner
Convenant Church
Amazing Grace
CATEGORY M-Best Upcoming Artiste
Amzat Abdel Hakim (Abeni)
2. Mbong Odungide (Amazing Grace)
3. Ali Nuhu (Sitanda)-Winner
4. Moumouni Sanou (Mokili from Burkina Faso)
CATEGORY N-Best Actress in Supporting Role
Noelie Funmi Agbendegba (Abeni) Republic of Benin
Jackie Agyemani (The President's Daughter)(Beyonce)-Ghana-Winner
Ireti Doyle (Sitanda)
CATEGORY O-Best Actress in Lead Role
Chioma Chukwuka (Sins of the Flesh)-Winner
Khabirat Kafidipe (Iwalewa)
Nadia Buhari (The President's Daughter)(Beyonce)Ghana
CATEGORY P-Best Actor In Supporting Role
Bruno Iwuoha (Sins of the Flesh)-Winner
Obi Okoli (Explosion)
Yinka Quadri (Apesin)
Fred Amata (Amazing Grace)
CATEGORY Q-Best Actor in Lead Role
Olu Jacobs (Dancing Heart)-Winner
Ganiu Nofiu (Apesin)
Kunle Abogunloko Convenant Church)
Ayo Lijadu (Maroko)
CATEGORY R-Best Director
Izu Ojukwu (Sitanda)-Winner
Muyiwa Ademola (Apesin)
Jeta Amata (Amazing Grace)
Tunde Kelani (Abeni)
CATEGORY S- Best Picture
Amazing Grace
Sitanda-Winner
Apesin
Abeni
This year the awards' night was compeered by one of Nigeria's leading actors, Richard Mofe Damijo & Tammy, a South African Actress. It unfolded to be a night of style, glamour, fashion and excitement for all who attended. Some of the biggest thrills were guest appearances by Oscar Winner Cuba Gooding Jr. and Monique from the sitcom the Parkers and the movie Phat Girlz.
Nollywood's favorite duo Chinedu Ikedieze and Osita Iheme (popularly known as Aki & PawPaw) were honored with Lifetime Achievement Awards in recognition of their dedication to the movie industry and a posthumous award was given to Joe Layode for his immense contribution to arts.
AMAA 2007 was capped with a colorful music and comedy festival at the Bayelsa Stadium featuring the MTV Award Winner Tuface Idibia, VIP from Ghana and other artistes.
No doubt, Nollywood is here to stay and can only get better from now on.
Onikepo Coker is Mshale's correspondent in Nigeria. She is an on-air presenter and Head of Production & Programming at Cool FM in Abuja.





(No Ratings Yet)


Loading...