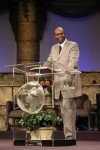 "Today is the beginning of the rest of your life." These are Pastor Randy Morrison's opening words during a Sunday morning service at Speak the Word Church International in Golden Valley, MN.
One part motivational and one part spiritual, Pastor Randy, as his church members and friends call him, conveys his message to an excited and receptive crowd – a crowd whose diversity is perhaps only matched by that of the United Nations. Individuals and families of various cultural, socio-economic, and denominational backgrounds gather beneath an array of hanging international flags and within the meticulously decorated church walls, all in the name of praise and worship.
"Today is the beginning of the rest of your life!" Pastor Randy repeats himself, this time with a little more fervor, making sure that each and every person beneath these flags and within these walls and beyond hears him; for his message aims to reach an estimated 2000 members a week and a potential 1 billion television viewers worldwide.
Nearly thirty years ago Speak the Word Church International began with just six people. Today its membership has grown so large that it must expand beyond its Golden Valley walls.
Pastor Randy speaks with enthusiasm and anticipation about his church's plan to build the Dominion Center, the next stage in what he calls "leaving a legacy." He explains, "Dominion is more than a church, it's a community center…it's a theater for performing arts that happens to have a church in it."
This legacy, however, reaches beyond the future walls of the eagle-shaped Dominion Center. In fact, it has always stretched beyond its church walls. Pastor Randy is focusing on what he believes is his church's mission – to hone-in on the last part of his church's name: international.
"Jesus said go out to the entire world didn't he? We must go to them if they can't come to us!" Pastor Randy eagerly proclaims this as if any other way is nonsensical.
"International means reaching the countries. We don't want to change people's culture – we want to work within culture to help each person in each country to discover the purpose for their being."
Under the leadership of Pastor Randy, Speak the Word Church International has made this their global mission: to spread The Word, aid in disclosing individual value, and empower those individuals to use their gifts to help their communities. And he has found that the places that need this the most are developing countries; for in developing countries, as he puts it, "we allow ourselves to be stigmatized. And colonialism didn't help. It can be passed onto kids. And cultures can be imprisoned. I get in trouble for saying that, but it's the truth. I like to break molds. Break molds by changing mindsets."
Profound is the idea that the progress or lack thereof in developing countries may be a result of colonized, stigmatized societies. Profound is the notion that these historical and generational stigmas may be shattered.
And profound is the fact that Pastor Randy used the possessive word "we" in describing developing countries. He has lived in the United States for thirty-six years, yet at times perhaps subconsciously, still speaks as though he is a young boy growing up in the West Indies island of Trinidad. And this is what he believes has allowed him to step onto international soil and convey his message – his relatability. Recently he has used this relatability to speak to and empower the people of Ghana, Kenya, Tanzania, Uganda and Zimbabwe.
"You don't need money, you need a dream!" Pastor Randy lives by this motto.
He is not a fan of giving developing countries material items alone. He believes this must be supplemented with skills and encouraging words. Pastor Randy has been visiting Ghana for the past ten years and working with Dr. Mensa Otabil of the International Central Gospel Church based in Accra. In Accra, he and Dr. Otabil search for ways to spread the Word of God while simultaneously empower individuals to find their life purpose and business savior.
"Why are you here, what are you doing?" – a couple questions they may ask to push an individual to "dream bigger" and "make a contribution to humanity."
Pastor Randy is convinced that "what makes the United States great is that it is built upon the brains of other countries because their own country wouldn't allow them to use their gifts and talents."
His goal is to help foster these gifts and talents right at home so people may help to build-up their own communities.
"Poverty is a state of mind, it is not a lack of resources." Pastor Randy and Speak The Word Church International are currently involved in Zimbabwe's City Light Foundation, an organization that assists widows and children who are affected by AIDS. Through this program he hopes to change the state of mind of the participants by offering them a valuable resource – industrial sewing machines. Pastor Randy refers to this as "empowering vs. enabling." Giving them clothing to sell is enabling while providing them with the resources to make and sell their own clothing as they choose is empowering. He likens this situation to the book and ensuing movie "The Pursuit of Happiness" and exclaims, "This man didn't sit and wait for someone to help him. In Africa you never see a "Will Work for Food" sign…People do," as in they do for themselves to the best of their ability. There is a minimal sense of entitlement, which he views as commendable.
In June Pastor Randy plans to visit Kenya & Tanzania to meet with businesspeople and deliver the same message he gives to the people of Ghana and Zimbabwe: "The condition you were born in, you don't have to die in."
Simply put, empower by understanding your value and take responsibility. He exclaims, "Understanding your value will keep you from living your life carelessly."
And when asked what he understands his value to be, he readily and insightfully explains, "My value is giving of myself – what I've learned and received. I am a container of something good…now I can take it and become a coach."
And he is hopeful that the people of Ghana, Kenya, Tanzania, Uganda, Zimbabwe and other developing countries will do the same. After talking about the countries in Africa in which he is involved, he sits back and calmly says, "If I can help Africa to compete with the rest of the world, I've done my job." And then he smiles and reflectively adds, "I love Africa…I really do."
"Today is the beginning of the rest of your life." In light of his international efforts, these opening words seem to render more than just inspiration. When asked why he incessantly shares these words, he speaks of our numbered days on this Earth and further replies, "Proverbs says that we are not guaranteed tomorrow and yesterday is gone. How would you live your life if today were your last day? So now, you are living your life with purpose."
And perhaps this is the perfect foundation for self-empowerment, value and responsibility no matter where you are or what you believe in: living life with purpose.

Speak The Word Church International is located in Golden Valley on 515 Jersey Avenue South. Pastor Randy Morrison & Dr. Mensa Otabil will speak about "Taking Responsibility" at the Annual Empowerment Conference at Speak The Word Church International, May 7-11, 2007.

Anna Otieno is a Special Correspondent for Mshale and reports on Faith, Politics, Health, Entertainment, and more. She enjoys various areas of media from print and television to research and analysis. She has a BA in Political Science with a focus on International Relations and an MA in Media Studies, Communication, both from Stanford University. She is also the founder and director of The Akinyi Foundation, an organization that focuses on humanitarian action by tying individual and group volunteers to domestic and international areas of need. Anna strives to disclose the most unique perspectives in life by utilizing the most creative styles. She's always in search of answers…"Always the beautiful answer who asks a more beautiful question." - e.e. cummings





(No Ratings Yet)


Loading...