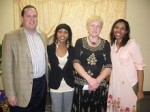 Nimco Ahmed was recently appointed as the policy aide for Robert Lillgren, the city councilor of the 6th Ward in Minneapolis.
As Lillgren's aide, Ahmed will work on issues around Community Development, Election, Health, Energy and Environment, Taxes, transportation and Public Works. Ahmed will also work on the City Labor Management Committee, Empowerment Zone, Meet Minneapolis, Minneapolis Community Development Agency (MCDA) Operating Committee, Neighborhood Revitalization Program Policy Board, Non-Motorized Transportation Pilot Program, Southwest Corridor Policy Advisory Committee, and Transportation Advisory Board.
Ahmed joins the Sixth Ward with tremendous experience as a community organizer. She has been instrumental in working together with the Somali Community and mainstream politicians.
A political activist since high school, Ahmed has worked on political campaigns with the following: John Corzine (current New Jersey Governor), the late Paul Wellstone, Senator Amy Klobuchar and Congressman Keith Ellison. With her appointment, Ahmed would like to bring more resources to the community, and to represent those she says "do not have representation."






(No Ratings Yet)


Loading...