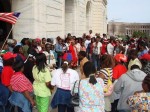 The Liberian community in Minnesota participated in a Solidarity Day rally and Press Conference at the State Capitol on April 24th organized by the Liberian TPS Solidarity Day Taskforce and the Organization of Liberians in Minnesota (OLM).
The Rally was an effort to appeal to all Minnesota Senators and Congresspersons to support the Liberian Refugee Immigration Fairness Act (S. 656) and the Liberian Refugee Immigration Protection Act (H.R. 1941) bills in the Senate and House respectively. These bills propose the adjustment of status for those Liberians currently under the Temporary Protected Status (TPS) to that of Lawful Permanent Resident.
TPS is a temporary immigration status granted to eligible nationals of designated countries who are unable to return to their country for reasons such as armed conflict, environmental disasters or other extraordinary and temporary conditions. It was established on November 29th, 1990 as part of the Immigration Act of 1990 (S. 358). Liberian refugees were granted TPS in 1990, after a brutal civil war broke out in 1989 which lasted through 2003.
In 2001, TPS for Liberians was terminated and briefly replaced with the Deferred Enforced Departure (DED) which delays the deportation of groups who would otherwise be placed in danger should they be deported to countries where there is instability. TPS was reinstated once again in 2002 since conditions that warranted TPS were still determined to be present in Liberia by the US Government.
The Liberian civil war ended in 2003 after the deployment of UN peacekeepers, the negotiation of a peace agreement which was followed by the general elections of 2005 and the inauguration of President Ellen Johnson-Sirleaf in January 2006, Africa's first elected female president. Although Liberia has made steadfast progress towards peace and the rule of law, the security and human rights situation in Liberia remains precarious.
On September 20th, 2006, the Department of Homeland Security announced the pending termination of the Liberian TPS, effective October 1st 2007.This drew a slew of protests from Liberian groups, human rights advocates and many politicians leading up to Tuesday's rally at the State Capitol. It is estimated that the scheduled mass deportation would affect over 8000 Liberians currently under TPS who have been living in the US for almost two decades. Critics argue that Liberia's social institutions and infrastructure would not be able to handle the massive return and further more most of the affected Liberians have established themselves in the community as parents of US born children, home owners and entrepreneurs.
"I'm not saying we don't love our country…if you carry a mass of people back to a country with no infrastructure, it will create tension," said James Kollie, Chairman of the Liberian TPS Solidarity Day Taskforce which coordinated the event.
"Many of these Liberian refugees have lived and worked here almost two decades," said Sen. Amy Klobuchar (D-MN) in a statement from her office. "They have opened businesses, bought homes and paid taxes. They have set down deep roots and become a vital part of our state. Forcing them back to Liberia at this point doesn't do any good for anyone."
The Solidarity Day Rally and Press Conference activities began at Sears Department Stores at Brookdale Mall in Brooklyn Center and the Rice street location in St. Paul where buses ferried participants to the State Capitol. A group stopped by the State Offices of Senators Amy Klobuchar (D-MN) and Norm Coleman (R-MN), co-sponsors of the Liberian Refugee Immigration Fairness Act, to give statements of appreciation for their support.
"It is important that our people understand the gravity of the situation. It does not matter whether you have TPS, a Green Card or are a citizen, we must all stand together," said Ben T Browne, Managing Editor of a Liberian-Minnesotan Online News Portal. "This is not the end, it is the beginning. We will continue until our people get permanent status in the US".
The day's events culminated with a series of speeches by Liberian community leaders and human rights activists at the Capitol Building's Rotunda which roused loud cheers and chants from the emotive crowd.
"We are not ready for mass deportations," said Michele Garnett McKenzie, Director of the Minnesota Advocates for Human Rights adding, "It is critical that we do not turn our backs on two decades of people…we need to give permanent status right now."
"The Justice Office is in solidarity with the Liberian people as we work together to pass the bills giving permanent status to Liberians on TPS," said Ginger K. Hedstrom with the Sisters of St. Joseph of Carondelet. "It is long overdue".
"It is important that TPS is expanded to permanent status, Liberia cannot handle the influx," added Phyllis Gadegbeko, a participant in the rally.
One of the points that elicited the most emotion from the audience was the issue of broken families where Liberian parents might be deported leaving their young American children behind.
"Families on October 1st are not going to be families anymore," said Paul Freeman with the Shalom Group of Churches. He praised the efforts of Rep. Keith Ellison (D-MN) in the House while urging everyone to go home and write at least one letter to Congress. "I will stand with you as you stand with each other," he said.
J.C. Kesselly, publisher of The Liberian Voice news magazine closed the event by thanking the Governor and everybody else who had shown support for the cause saying, "Our job is not done, we are our brother's and sister's people – let us not forget."

Dave is working on his first novel. He is also an author for Kenya Imagine, an online interactive newspaper.





(No Ratings Yet)


Loading...