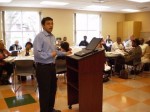 African immigrants in Minnesota today comprise 25% of the black community in this state and should learn to understand the funding culture of philanthropic organizations in America if they are to attract any money to meet their ever-growing needs.
Delivering a keynote address at the Center for Families in North Minneapolis on April 26 on a community dialogue on the impact of African non-profits, Dr Jacqueline Copeland admitted that there is a cultural and communication gap between funding agencies and non-profits that has to be addressed.
She told a fully packed assembly of stakeholders that many philanthropists in America do not have a clear understanding of the intrinsic African culture and core values. She said they mainly relied on the mainstream media exposition of the African stereotypes that depict Africans as unreliable, corrupt and a people on the lookout for handouts.
She said contrary to those racist stereotypes, Africans have a long tradition of volunteer work and "do take care of their communities here and at home." She cited a World Bank Report that pointed out that in the year 2006, the Africans in the Diaspora remitted to the mother continent $ 20 billion, the largest single net-flow of capital to Africa.
Through a process of acculturation, she noted, African-led non profits must learn to adjust to a complex culture, understand the funding trends as public expectations change over time and collaborate with other successful non-profits by learning from their experiences to succeed.
She noted that in America today about 300 no-profits are established each week and thus the competition for limited funding resources is intense. African non-profits should be focused in their core missions and articulate their priorities as a way to respond to their community needs and attract funding.
The community dialogue on African nonprofits was organized by the Minnesota Council of Nonprofits (MCN) in collaboration with the Leadership Empowerment and Development Group (LEAD). Research findings compiled by a University of Minnesota student pursuing a masters program in public health, Omar Fernandes, comprised recommendations that formed the bedrock of a lively discussion. The co-presenter was the Executive Director of LEAD, Qamar Ibrahim.
In their recommendations, they urged funders to compare and contrast the amount and impact of resources going to mainstream organizations as opposed to smaller African-led organizations to ensure optimal distribution and use of resources. They noted that funders should periodically examine their commitments as their investments have lacked continuity and have not kept pace with the growing needs of the African immigrant population in Minnesota.
The presenters noted that African-led non-profits should take part in future surveys and research as a means of communicating their needs. They are to learn how to communicate directly, openly and honestly with the stakeholders on organizational strengths and weaknesses and resource capacity needs to be able to have their expectations met.
Norman Harrington Jr., President of NWH & Associates – a management consulting firm – advised African non profits to approach funders "with an asset base instead of a deficit." He said they should articulate their requests with a Pan-Africanist mission that resonates with the changing political climate of the day. He said they look more credible when they bring something of their own on the table rather than coming empty-handed.
A member of the public complained that as African-led non-profits succeeded in capacity building, their dependable staff are lured into greener pastures thus leaving the organization with a cycle of training experts that end up serving more stable institutions where employees get a fat paycheck.
Some 32 nonprofits were examined over a five-year period (2001 – 2005) to determine their historical financial trends of annual revenues and expenditure. Throughout the five-year period, the average revenue was close to $ 150,000 – relatively small nonprofits but the cumulative resources more than tripled during this period. Expenses for the organizations in 2005 averaged $ 190,000. Of the 32 nonprofits surveyed, 77 percent of their revenue sources came from charitable contributions, gifts and grants, and 19 % came from program service revenue, including government fees and contracts, and 4 percent came from other sources.
In terms of expenses by functional categories, 80 percent of African-led nonprofits' total expenses went to program services, 16 percent went to management and general expenses while 4 percent went to fundraising activities.
The African Nonprofits 2007 Report noted that as of expenses in categories, "50 percent of the African-led nonprofits' total expenses went to salaries, other compensation and employee benefits, 9 percent went to occupancy, rent, utilities and maintenance, 6 percent went to travel, conferences and meetings, 3 percent went to professional fees and other payments to independent contractors, 1 percent went to printing, publications, postage and shipping, and 31 percent went to other expenses."
It was further noted that as no single organization has exclusive contact with a client, it was imperative for nonprofits to collaborate with one another to share valuable information, utilize resources efficiently, and provide a variety of programs and service to clients.
Minnesota's African immigrant population has seen more than a threefold increase since 2000, and includes representation from 45 nationalities. Large numbers of immigrants come from Somalia, Ethiopia, Liberia, Kenya and Nigeria. Nonprofits provide key services to immigrants, refugees and asylum seekers.
The Guest of Honor, Dr Jacqueline Copeland has 25 years experience as grant-maker, researcher and evaluator in the philanthropic nonprofit sector. She has taught philanthropy to graduate and professional students at the University of Minnesota and at St Mary's University.
Apart from being Founder and Partner of Copeland Carson & Associates, a national philanthropic services and evaluation firm, she has authored two books: Creating Africa in America and Creating Evaluation Anthropology. She now lives in San Jose California with her husband and teenage daughter.

Swallehe Msuya was a senior staff writer at Mshale with extensive media experience in his native Tanzania. He was a general assignments writer. Investigative stories that Mshale undertook were normally his responsibility. Swallehe passed away in Sept. 2009 at the age of 61. Mshale will forever miss his tenacity and wisdom.





(No Ratings Yet)


Loading...