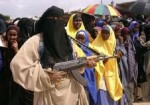 Secretary of State Condoleezza Rice last month appointed a special U.S. envoy for Somalia, ending more than 10 years of no diplomatic presence in the African nation. But some experts and local Somalis say the move is too little, too late.
Retired diplomat John Yates, who was in charge of the Somalia portfolio at the U.S. embassy in Kenya before his appointment, faces immense challenges. The country has been without a central government for 16 years, and violence has recently been at an all-time high.
More than 4,000 people, mostly civilians, have been killed since January in the worst fighting between Ethiopian troops and resistance groups. Many Somalis blame the United States for giving Ethiopia the green light to invade Somalia.
Professor Ahmed Samatar, dean of international studies and programming at Macalester College in St. Paul, a Somali native and an expert, said he is "dismayed by the way the U.S. administration has bungled its current approach to the Somali situation."
Former U.S. ambassador to Ethiopia, David Shinn, who now teaches at George Washington University said Yate's appointment "as special envoy for Somalia is a good one. I only wish it had happened earlier. "
Jendayi Frazer, assistant secretary of state for African affairs, visited Somalia, in April, to show support for the fledgling, warlord-dominated Transitional Federal Government. But that hardly quelled the violence.
Last month, Somalia Prime Minister Ali Ghedi escaped a roadside bomb that targeted his convoy. The same month saw five African Union troops killed and dozens injured in another roadside bombing in Mogadishu, which is increasingly looking like Baghdad.
U.S. Sen. Nom Coleman, R-Minn., who has been pushing for an ambassador-level diplomat to Somalia for almost two years, said the move is a "necessary step towards the establishment of a comprehensive U.S. policy for Somalia."
Minnesota is home to the largest Somali-American community in this nation.
Hundreds of Somalis protested recently in Minneapolis against what they said is a massacre by the Ethiopian army and the sectarian Somali government troops. In May, the United Nations launched an investigation into possible human rights violations during fierce fighting in March and April, and the European Union suspended financial support to the Somali government pending that investigation.
Samatar, the Macalester professor, said "this envoy should have been appointed last summer," to mediate between the interim government and its adversaries."
"If there is to be any concrete and positive value in this new emissary," Samatar said, "he will have to have a ready and convincing response to the immediate withdrawal of the occupying Ethiopian forces, and the urgent creation of a new political national dispensation that supplants the [interim government].

Abdi Aynte was a news reporter for Mshale in his early journalism years. After a stint at Mshale, he moved on to the BBC, Voice of America and eventually relocated to Doha to join Al Jazeera. After leaving Al Jazeera, Aynte moved back to his homeland of Somalia to become the first Director of newly formed non-partisan Heritage Institute for Policy Studies (HIPS).





(No Ratings Yet)


Loading...