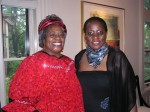 Dr Inonge Mbikusita-Lewanika, Zambian Ambassador to the US, was in Minneapolis in May to support the efforts of World Vision and the International AIDS Trust who have a joint project on the development of leadership in women.
The initiative of these two organizations creates an alliance between Minnesotan professional women and Zambian women working with orphans in Zambia. Visits to Zambia, while enforcing relationships between the two groups of women, allows an assessment of the needs of the orphanages to be made on a more personal level.
Lewanika, a strong advocate for the basic rights of orphans, together with her sister, runs a school in Zambia that houses and educates 530 students. The teachers, who she trains, are all orphans. In an attempt to create a sense of family, the households in which the orphans live in are headed by older orphans whose responsibility is to look out and care for their siblings.

Lewanika mentioned that the Zambian government has made great strides in the fight against HIV and AIDS by setting up the National Aids Council that monitors the activities of the various organizations involved. According to Lewanika many non-governmental organizations (NGOs) work hand in hand with other countries to simulate models on how to effectively work with the government when working on similar causes.
In what is a first, the Zambian government, in raising HIV/AIDS awareness, invites traditional community leaders to speak on prevention, treatment and testing. Awareness has also been created through posters and even on receipts given to those who buy land from the government. This aggressive campaign has seen the Zambian population's HIV/AIDS infection drop from 20% to 16%.
Zambian president, Levy Mwanawasa has instructed all Cabinet Ministers to mention HIV/AIDS awareness every time they make a public speech regardless of the topic at hand. The Government has also turned infrastructure that was used for National Service training, into schools and housing for orphans who are vocationally trained and sent back to their places of origin, equipped with a trade.
Lewanika: "There are about one million orphans on the streets of Zambia. The government has made great efforts to handle the overwhelming number of children orphaned by AIDS."
.
Domestic abuse has also been addressed by the Zambian government which had been previously as a matter to be resolved between spouses and their families. According to Lewanika the Zambian government has established a Victims' Support Unit while also educating members of the police force on the rights of women to be safe in their homes. Husbands found guilty of battering their wives are now being arrested and put through the court systems.
Despite awareness of their rights, many women were still reluctant to report abuse from their spouses. Lewanika, however, pointed out that once women were educated and economically empowered they would be more independent allowing them to get away from abuse.
The president of the International AIDS Trust, Sandra Thurman said she was "encouraged by the increased AIDS/HIV awareness in the Zambian community."
Thurman is confident that these steps will lead to lower infection rates. She stressed the need to address the social stigmas attached to HIV/AIDS infected persons. Talking about sexuality and promoting condom use among couples, where one was HIV positive, have proved to be some of the challenges still faced and until these can be overcome, the disease would continue to be difficult to identify and treat.
Thurman advocated for the education of girls since they were vulnerable. "Due to the worldwide AIDS pandemic, people around the world have had come together to discuss the underlying issues that make different demographics more at risk in getting infections, such as poverty and education.
Urging the Zambian government to change legislature, Thurman said, "Customary law which requires the widow or widower to be 'cleansed' by a close family member of his or her late spouse has contributed to the spread of HIV/AI
Muzamba Sibajene is a general assignment reporter at Mshale. She previously worked with dailies in her native Zambia.      





(No Ratings Yet)


Loading...