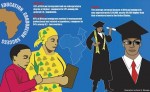 Country of Origin a Major Factor
African immigrants in the United States are generally more educated and earn larger salaries compared to people from other continents, but their success depends on what country they come from, according to a new report.
The study was conducted by Kefa M. Otiso, a professor of Geography at Bowling Green State University in Ohio. Otiso said the project, which draws data from the 2000 U.S. Census, began "just out of curiosity" by comparing Kenya and Ghana. During the Kenyan Diaspora investment forum in Atlanta, Ga., in March, Otiso presented his findings in a report on how Kenyan immigrants were doing economically. They did surprisingly better when compared to the general U.S. population, the report showed then.
It was out of that realization that Otiso decided to examine immigrants from other African countries to see how they compared against each other and the U.S. general population, he said. The data showed that 75 percent of African immigrants come from 12 of 54 countries namely, Nigeria, Egypt, Ghana, Ethiopia, South Africa, Kenya, Liberia, Somalia, Morocco, Cape Verde, Sierra Leone and Sudan.
"The more I learned, the more I realized that although we come from the same continent and have a lot of similarities, we are very different," Otiso said.
Overall, Africans immigrants performed better than the rest of the U.S. population in education and employment, the report shows. For instance, the rate of Africans with an undergraduate degree and above was 43 percent, compared to 24 percent among general U.S. population.
The average annual personal income of African immigrants was about $26,000, nearly $2,000 higher than that of American-born workers. This factor might be attributed to the fact that a larger percentage of Africans (71) aged 16 years and older were in the work force. In contrast, 64 percent of Americans were employed, the study showed.
The high educational and professional success of Africans could become beneficial to illegal immigrants from the continent in their efforts to become lawful. One key area is in overcoming the huddles set by a bipartisan comprehensive Senate immigration bill agreed upon in May.
The bill, which President George W. Bush said he would sign, lists education, knowledge of the English language and job skills as some of the requirements that illegal immigrants would have to meet to be considered for legalization. There is no data on the specific number of Africans living in the United States illegally, but most of them are students and visitors who overstayed their visas.
The success of African immigrants is not uniform across all communities, however. Those who come from countries such as South Africa, Nigeria, Kenya and Egypt, where English is spoken, rank among the highest income earners because it is easier for them to deal with the transition they have to make to resettle, the report shows.
On the other hand, Ethiopians, Sudanese and Somalis, who mostly immigrate as refugees, do not do as well as their counterparts from English speaking African countries. Otiso said that the reason was because most people from the three countries immigrate to the United States as refugees and asylum seekers, following crises in their home countries.
"The decision to immigrate is mostly an economic one," Otiso said. "Those who do so willingly are likely to choose where to go based on how easy it will be for them to resettle and be successful."
Otiso said he hoped the diversity of the African immigrant population shown in his study would help policymakers and social service agencies to tailor services to specific communities. That is something Jillian Middlebrooks, a manager in the Office of Multi-Cultural Services in Hennepin County, Minn., said would be important as her office strives to effectively serve a diverse population that is often grouped together.
"Understanding the communities we serve is very critical," Middlebrooks said.
Middlebrooks said that by looking at the countries of origin of African immigrants who receive services from her office, the county had already seen the differences highlighted in Otiso's study. Somalis and Oromos were the African communities that frequent the office. The Minneapolis metropolitan area, where Hennepin County falls, is home to the largest Somali population in the United States. As new non-English speaking immigrants struggle to resettle, the county government's challenge is to make that transition easier for them, Middlebrooks said.
"Our system is already difficult enough for people born in the Midwest to navigate," she said. "We have to make it easy for people coming from cultures where filling paperwork is not the norm."
Middlebrooks' office provides job skills training and legal services to new immigrants. The office also accepts volunteers who do not speak English as a first language to assist in mentoring and helping others.
Edwin Okong'o is a Mshale Contributing Editor. Formerly he was the newspaper's editor.





(No Ratings Yet)


Loading...