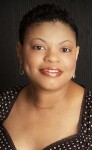 "Crossroads is a weekly program that highlights the issues in the minority community – whether they are good or bad." Sheletta Brundidge, host, comedienne, and 5 Eyewitness News Assignment Editor, explains the idea behind her new 30-minute television show on Twin Cities' KSTC.TV Channel 45. For the past three years, Brundidge has been pushing the station to consider her programming ideas. And all of her pushing has finally paid off.
"They [KSTC.TV] had a program where they allowed the NAACP and Urban League to talk about their issues" – but these issues only reached out to the African-American community and "we really could do more…Women have a story to tell. Africans have a story to tell. And the mainstream news doesn't necessarily cover their issues." Brundidge hopes that Crossroads will shed light on the issues that affect the local communities of color as well as women.
"It's really a program for, by and about us – meaning people of color – people who need exposure." Brundidge takes this further and points to the Liberian, American Indian and Hispanic communities to illustrate an area where voices are often not heard. From local crime to Boy Scout troops, Brundidge aims to cover the various issues in the local minority communities. Furthermore, she plans to be a voice for the immigrant demographic. "We're going to have the immigrant perspective. A lot of times it's the white perspective [of immigrants]. This show is going to bridge the gap where the mainstream media leaves off…"
Crossroads is already off to a jumpstart. One of Brundidge's first guests was Minneapolis Mayor R. T. Rybak and the show topic was on local violence and crime. But as a disclaimer, Brundidge states, "The show isn't serious all the time. We'd like to keep it light: How to be a better parent, how to be a better mom, etc" and then she mentions her 11-month old baby and throws in a joke by saying, "…the show is really to help me out."
After pitching the selling points for her new show, Brundidge closes by thoughtfully declaring, "This show is going to be a voice for everyone."
Crossroads airs Sunday mornings at 5:30am on KSTC.TV Channel 45. For more information on Crossroads, visit http://crossroads.eponym.com/ or contact Sheletta Brundidge at 651-647-2860 or sbrundidge@kstp.com

Anna Otieno is a Special Correspondent for Mshale and reports on Faith, Politics, Health, Entertainment, and more. She enjoys various areas of media from print and television to research and analysis. She has a BA in Political Science with a focus on International Relations and an MA in Media Studies, Communication, both from Stanford University. She is also the founder and director of The Akinyi Foundation, an organization that focuses on humanitarian action by tying individual and group volunteers to domestic and international areas of need. Anna strives to disclose the most unique perspectives in life by utilizing the most creative styles. She's always in search of answers…"Always the beautiful answer who asks a more beautiful question." - e.e. cummings





(No Ratings Yet)


Loading...