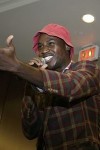 The Redykyulas comedy troupe is once again set to do its annual American tour. The three former students turned comedians begin their 2007 multi-state comedy tour in Long Beach, CA on July 7.
Walter Mongare, Tony Njuguna and John Kiarie quickly rose to fame in the late nineties by doing what no one else dared to do at the time; caricature the former president Daniel Moi. Some believe their actions played an integral part in changing the attitudes of many Kenyans, most of whom at the time considered it taboo to criticize the president or the political elite.
Their talent at lampooning a seemingly endless array of characters, and ability to take an otherwise random piece of news and commit it into comedic history has ensured a loyal following. This is responsible for their popularity within the Diaspora and the current success of their annual tours and video sales.
Their skits continue to be daring, cutting edge and topical as they tackle everything from the first lady of Kenya , to popular televangelists and sports celebrities. Their trademark provocative 'president dance' never fails to bring down the house and remains one of the most anticipated parts of their show. They give ordinary Kenyans a chance to laugh at a political scene which is often tenuous and polarizing.
Their 2007 tour, promoted by Kilimanjaro Entertainment, will feature an up and coming comedian 'Churchill' and songstress Linda Muthama who was the 2nd runner-up at the 2006 Tusker project Fame. The tour will also be promoting the new Kenyan movie 'Malooned' directed by Bob Nyanja and produced by Cinematic Solutions . They will end with a show in Minneapolis, MN on August 4th at the Park Center High School auditorium in Brooklyn Park. More information can be found here.

Dave is working on his first novel. He is also an author for Kenya Imagine, an online interactive newspaper.





(No Ratings Yet)


Loading...