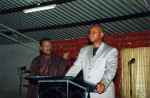 Nairobi, Kenya– In June, world-renowned preacher, Pastor Randy Morrison visited Kenya where he spent most of his time inspiring the church and the business fraternity on leadership. The pastor who centered his activities on strengthening the capacity of church leadership delivered powerful sermons and teachings in the various churches that he visited.
Thirty years ago, Pastor Randy found Speak the World International Church which continues to grow towards being one of the largest megachurches in the world.
The pastor who was an East African tour addressed hundreds of Christians in Kenya's largest cities– Nairobi and Mombasa.
He was heeding an invitation by Kenyan pastors to deliver his empowering message on leadership to their churches. East Africans who have only watched the pastor delivering his sermons via television broadcast thronged the local churches to get a glimpse of him. Many are loyal viewers of the pastors recorded teachings through a local Christian Television station, Family TV.
In Nairobi, the pastor preached to the congregation of the Redeemed Gospel church in Nairobi who got a rare opportunity to hear the words of the televangelist.
In Mombasa, flanked by pastors based in the city, he delivered sermons at the Jesus Celebration Center (JCC) and the Mombasa Pentecostal Church (MPC).
During a leaders' seminar at MPC, the pastor dwelt on the importance of quality leadership in Christian and general life. The cleric who was on his first visit of the Kenyan Coastal city, urged the faithful to soul search and discover their purpose of existence. This, the pastor said would form a basis for good decision making especially to people who are in leadership positions.
His message to the people was that God has a purpose for everyone assigning duty through which his or her blessings will be channeled.
"God will only bless you if he assigned you that blessing", he told the responsive congregation at he Jesus Celebration Center church.
Wilfred Lai, JCC's pastor, maintained that good leaders should utilize their ability to influence the people they lead for a fulfilling life.
"Leaders have the ability to bring necessary change in the society", he said amidst jubilation from the congregation.
The leaders' seminar held on a Saturday drew people from all Christian denominations within Coast province, whose aim was to get teachings from the internationally recognized man of God.
Pastor Randy Morrison was accompanied by Mensah Otabi, a Christian motivational speaker from Ghana.
Currently, Pastor Randy's television program, A Common Sense Approach (formerly called "The Exalted Word Broadcast") is seen on television all over the world.
Read Moraa Gitaa's Blog on the Mombasa event.
Khamala Otieno is Mshale's correspondent in the East African region. He has extensive experience working with the leading dailies in East Africa.





(No Ratings Yet)


Loading...