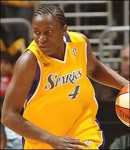 "We would like the African community to come out. It's a major push." Aneisha Johnson, Group Sales Representative for the Minnesota Lynx and Timberwolves explains the goal of Mshale Night with the Minnesota Lynx. On Friday July 27th at 7pm, the Lynx will play the Los Angeles Sparks in the Target Center and supply a night of fun, food, and family – all at a discounted price. For just $30, Mshale readers may purchase the Mshale Package, which includes 2 lower-level tickets to the game as well as 2 Meal Deals. "It's accessible to everyone," says Johnson, which is a great priority.
The African community in Minnesota is one that has yet to be tapped into by various athletic teams. It is now, however, a goal that may begin to be fulfilled through Mshale Night. Johnson expresses that "folks of all types of backgrounds should come and see our games." And adds, "this in particular is important" because the African immigrant populations are somewhat of a new demographic for the Lynx and Timberwolves outreach. This game was chosen for Mshale Night so that attendees may have the chance to watch Mwadi Mabika, a native of Congo who plays for the Los Angeles Sparks. Watching her as well as the hometown Lynx team may spark a newfound interest in the game among attendees.
Johnson says that this night of outreach and entertainment doesn't end with the Minnesota Lynx. They would like Mshale readers to "experience a WNBA game and an NBA game." In the future, Mshale Night will incorporate a Minnesota Timberwolves game in some format, giving attendees the chance to experience another side of professional basketball.
The Lynx and the Timberwolves have big plans for Mshale readers and extended African communities. They have pre-game performances. And folks always love a good halftime show. So they are hoping that Mshale Night may disclose some African musical talent who may be able to perform in the future. So save the date – it's a small price to pay for a great game, family time, food and entertainment!
Here is a link to the Ticket Order Form.
Mshale Night with the Minnesota Lynx is Friday July 27th, 2007 at 7:00pm at the Target Center in Downtown Minneapolis. The Mshale Package includes 2 lower-level seats and 2 Meal Deals (hotdogs, pop and chips). For more information about Mshale Night with the Minnesota Lynx, contact Aneisha Johnson at 612-673-8420 or ajohnson@timberwolves.com

Anna Otieno is a Special Correspondent for Mshale and reports on Faith, Politics, Health, Entertainment, and more. She enjoys various areas of media from print and television to research and analysis. She has a BA in Political Science with a focus on International Relations and an MA in Media Studies, Communication, both from Stanford University. She is also the founder and director of The Akinyi Foundation, an organization that focuses on humanitarian action by tying individual and group volunteers to domestic and international areas of need. Anna strives to disclose the most unique perspectives in life by utilizing the most creative styles. She's always in search of answers…"Always the beautiful answer who asks a more beautiful question." - e.e. cummings





(No Ratings Yet)


Loading...