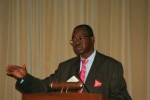 NEWARK, Del. – Kenyans living abroad are now closer than ever to getting the privilege of dual citizenship, a top official of that country's government said in June.
Henry Obwocha, the minister for planning and national development, and the keynote speaker at this year's Kenyan Community Abroad convention in Newark, Del., said that a draft paper had been drawn and leaders were ready for input from Kenyans in the Diaspora. Obwocha told conference participants that both the government and the opposition had agreed on the need for Kenyans to be able to have dual citizenship.
"Nobody is opposed to this (dual citizenship), because we recognize and appreciate the role Kenyans abroad play in the development of Kenya," Obwocha said.
Dual citizenship has been a dominant issue for Kenyans living abroad. Under current law, Kenyans automatically lose their country of birth's citizenship upon taking up that of another country. Reforming that law will accord Kenyans in the Diaspora several important benefits, including voting rights and possibly representation in the legislature. Members of the Diaspora have repeatedly said they would invest more in Kenya if they had dual citizenship.
Obwocha urged Kenyans abroad to pressure their political parties for a chance to be represented in Parliament.
"The issue of a Diaspora constituency is a matter of administration," he said. "In my view the political parties should handle this. If you subscribe to a political party, press the party for a seat. This can be done without any legislation."
Obwocha appealed for unity in diversity among Kenyans living abroad.
"We want a united country, let us appreciate our diversity," Obwocha said. "Let it be our strength."
The minister, an economist by training, told the conference that the government remained steadfast in implementing economic and political reforms. The evidence, he said, was that the economy had recovered in recent years.
Kenya's economy has been growing tremendously in the last four and a half years, rising to nearly 6 percent last year.
Obwocha asked Kenyans in the Diaspora to invest in building and construction, and tourism, which he said would benefit the country. Kenya had nearly 1.6 million tourists last year and there was urgent need to invest more in the hotel accommodation industry, he said.
"We did not expect our tourism industry to recover as fast as it has done," he said.
Kenya's tourism industry, which accounts for 19 percent of the country's gross domestic product, has suffered setbacks since 1998 when a bomb ripped though the U.S. embassy in Nairobi killing 213 people and injuring an estimated 4,000. Kenya is on the U.S. State Department's list 27 countries American tourists are advised to avoid.
Earlier in the opening ceremony, KCA President Mkawasi Mcharo urged all Kenyans in the Diaspora to get involved in the formulation of policy in their motherland.
"There is nothing that happens in Kenya that does not affect us," Mcharo said. "It is our responsibility as Kenyans to participate in setting policies and engage in political discourse. Policies that affect us are created by other people, [but] it's our duty to engage fully as Kenyans."
Noting that KCA members are trans-national citizens, Mcharo urged members to contribute equally to Kenya's development because they were still part of the county despite their absence.
"When Kenyans are in pain we are in pain," she said. "When they celebrate we celebrate."
As if to heed Mcharo's call, several aspiring MPs from the Diaspora were present in their efforts to garner the Diaspora's support ahead of the general elections scheduled for December. Among them was Reuben Marwanga, who declared he would contest for the West Mugirango seat, currently occupied by Obwocha. Others were John Maina (Embakasi), Jonathan Mueke (Westlands) and Newton Isaac Kinity (Nakuru Town).
This year's conference theme was "Uniting a People, Building a Nation" and was also KCA's tenth anniversary celebration. Kenyans from the neighboring states of New Jersey and Philadelphia, the Washington metropolitan area, and from as far as Georgia and Minnesota began arriving late Friday for the annual conference that brings together Kenyans in the Diaspora to discuss development issues of the East African nation.
Douglas Mpuga is Mshale's correspondent in Washington, DC. He has over 12 years experience as a journalist in both Africa and the United States. He has worked with leading Dailies in Uganda such as New Vision and was also a producer at Uganda TV. He has trained at such places as KCOP TV (UPN 13), Los Angeles and IDAHO 8 TV Station, Idaho Falls, Idaho. While at Howard University as a Research Assistant, he taught basic courses in journalism and communication. He is a member of numerous professional associations including the East Africa Media Institute, International Communication Association and the United States Telecommunications Training Institute Alumni Association.





(No Ratings Yet)


Loading...