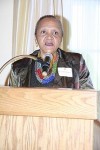 In its continued effort to get the African market more in sync with the global market economy, Minnesota-based Pan African Business Alliance is planning a investment summit in October that will be attended by various dignitaries, an official of the organization said.
In an interview with Mshale, Henry Ongeri, the executive director of PABA said the summit would present a myriad of trade and invest opportunities to governments and businesses.
"We would like to encourage companies in the Midwest to venture into Africa and invest there, especially in terms of building infrastructure," said Ongeri.
In the past PABA has organized similar business fairs to increase visibility of African businesses, but the Pan African Investment Summit will be one of the largest. With the summit, PABA hoped to market Africa, not only a trade destination, but also as an investment opportunity for companies and local governments in the Midwest US region, said Joash Maangi the chairman of the summit's planning committee.
Maangi said the summit PABA aims to: give African countries and individual companies from Africa an opportunity to showcase their trade and investment opportunities; expose American companies to trade and export ventures in Africa; have Africa showcase itself as an investment destination; give the African summit sponsors an opportunity to market their products and services; offer participants an opportunity to network and share ideas and opportunities on trade, business and investment.
The summit has attracted prominent guest speakers that include Minnesota Governor Tim Pawlenty, the Vice President of Nigeria Goodluck Ebele Jonathan and former U.S. Vice President of the US, Walter Mondale and ambassadors from the African Union, Kenya and South Africa. Former U.S. Deputy Secretary of State, Brian Atwood will also be in attendance.
So far, countries that will participate in the summit include South Africa, Nigeria, Kenya, Rwanda, Ghana, Tanzania, Zambia, Namibia, Liberia, Uganda and the Ivory Coast.
PABA has partnered with the Minnesota Trade Office, the Roy Wilkins Center of the Humphrey Institute of Public Affairs at the University of Minnesota, the International Leadership Institute (ILI) and several African Community Organizations in Minnesota.
Sponsors of the event include Mshale Newspaper, Lemna International, Inc., US Bank, MT Global Wines, Inc. and Igbanugo Partners International Law Firm.

The Pan African Trade and Investment Summit will be held on October 4th-6th at the University of Minnesota, Humphrey Institute of Public Affairs. For information on participating in the summit contact: Joash Maangi at: jmaangi@abcgroupllc.com. Tel: 952 697 3690. Visit their website here.







(No Ratings Yet)


Loading...