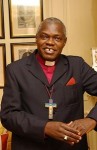 U.S. Episcopal bishops and Anglican leaders from Africa concluded a six-day conference Thursday that was arranged to strengthen relationships and build new ones.
Bishops representing 22 dioceses in the United States and 29 dioceses in Africa convened in Madrid, Spain, for the July 21-26 consultation titled "Walking to Emmaus, Discovering New Mission Perspectives in Changing Times." Convened by Trinity Church Wall Street and hosted by the Reformed Episcopal Church of Spain, the meeting was closed to the media and the names of the participants were not disclosed.
At a time when tensions are mounting within the Anglican Communion particularly over The Episcopal Church's 2003 consecration of an openly gay bishop, a released statement by the Rev. Canon James Callaway of Trinity Church indicated the consultation was an opportunity for bishops of Anglican Provinces in Africa and their companions in the U.S. branch (The Episcopal Church) to develop mission partnerships and discover new ways to bear witness to the Gospel.
"The consultation is offering partners in faith and mission a communal space to further existing partnerships and find commonalities on which to build new relationships," said Callaway before the meeting. "This week, as bishops share their hopes and vision for mission as Anglicans in today's world, we look forward to a stronger communion committed to providing important resources to those in need around the world."
"Mission flourishes best through collaboration," he said.
According to VirtueOnline, a voice for Global Orthodox Anglicanism, some of the attendees included primates (Anglican leaders) of Burundi, Central Africa, Congo, Southern Africa, and Brazil – the first three of which are orthodox provinces while the latter two are commonly described as liberal.
Many Anglican leaders in the Global South had recently issued a statement that urged The Episcopal Church to repent and restore true communion to the worldwide Anglican churches.
The 77 million-member Anglican Communion is on the brink of schism over recent actions of The Episcopal Church, including the 2003 consecration.
"At a time when the world needs a vision of reconciliation and unity, our failure to restore the 'torn fabric' of our Communion threatens to show the world a contrary example," said the statement released by the Global South Steering Committee last week.
Several Global South Anglican leaders have threatened to boycott the Anglican Communion's decennial Lambeth Conference in 2008 and were recently joined by as many as 10 bishops from the Church of England – regarded as the homeland of Anglicanism.
Archbishop of York Dr. John Sentamu, the Church of England's second most senior cleric, has warned conservative Anglicans that they risk breaking ties with the worldwide communion and with historic Anglicanism if they boycott next year's assembly.





(No Ratings Yet)


Loading...