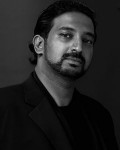 Designer to champion protection of children from violence and abuse
Cape Town, South Africa, 11 August… UNICEF last night announced the appointment of top South African couturier and humanitarian activist Gavin Rajah as a UNICEF Goodwill Ambassador. The announcement by the world's premier children's organization came at the close of the designer's Cape Town Fashion Week show in the city South Africans affectionately call the "mother city".
Welcoming Mr. Rajah to the global fraternity of UNICEF Goodwill Ambassadors, Macharia Kamau, UNICEF South Africa Country Representative, said the appointment recognized Rajah's transformative contributions to the lives of South African children and their families. Through his generous philanthropy and advocacy and his impressive creative achievements as a fashion designer and entrepreneur, Gavin Rajah promotes the rights of women and children to protection from violence, abuse and exploitation, and actively supports the development of critical life skills for young people."
"I am deeply honored by this appointment, Mr. Rajah said, as he accepted the UNICEF appointment. I have always been a great admirer of UNICEF's work to protect the children of the world and I am proud to have been given the opportunity to help UNICEF protect, care for and stamp out the most abhorrent crime of violence against children, particularly those in my own country. We must all work harder to create safer conditions for children to grow up in. There is no future without children."
In his work with UNICEF, Rajah will champion child protection, focusing on the care and protection of orphans and other vulnerable children like those in child-headed households, and for their right to grow up in healthy, safe environments, free from the scourge of violence.
According WHO global estimates, twenty-five per cent of girls and eight percent of boys have been subjected to some form of sexual abuse. The United Nations Study on violence against children showed that from forty to sixty percent of sexual abuse in families involves girls under the age of 15, and that boys and girls with physical disabilities are particularly vulnerable to sexual abuse.
Equally startling data on violence against children in South Africa show that the country may have a long way to go to achieve Rajah's dream of a violence free environment for all children. According to the South African Police Service (SAPS), in 2005, 360,000 women and children were murdered, raped, assaulted and sexually molested in South Africa and 31,607 children were victims of common assault. Eighty-eight percent of first offenders are known to the abused, and homicide and violence is the no. 15 cause of death for children under 5 years old in South Africa.

South Africa is fighting back, however, with significant pieces of protection legislation currently before Parliament such as the Children's Amendment Bill, the Sexual Offences Bill the Child Justice Bill and Child Trafficking legislation. Child protection units and specialized courts have been established to deal with sexual offences and aim to help reduce the time between reporting and finalizing a case and increase conviction rates. South Africa has a 7% conviction rate for all rapes reported to police, whether child or an adult. UNICEF provides technical support to these initiatives and to the 12 integrated centers (Thuthuzelas) that provide treatment, care and support to child survivors of sexual violence.
About Gavin Rajah
Gavin Rajah, who recently introduced the work of four young South African designers at his 4 July Paris Fashion Week show, is a founder of Cape Town Fashion Week and the only South African designer invited by France's prestigious Federation Française de la Couture to showcase his collections at fashion's leading event, Paris Fashion Week.
His relentless advocacy has helped give the fashion industry a human face and has earned him international admiration as a speaker on development issues at high level events like the World Economic Forum, where he recently spoke out about child labour practices in the fashion industry and others. He is in demand as fundraiser and remains an influential celebrity advocate for the rights of South African children and women.
Inspired by South Africa's rich, cultural heritage and traditional crafts, Gavin Rajah believes they should be nurtured and protected. "These unique traditions can, through advanced skills training, provide HIV affected young people and their families with sustainable livelihoods," he says. Mr. Rajah has announced plans to work with UNICEF and other partners to establish a sustainable development community-based project that supports families and young people who wish to learn garment manufacturing skills, a backbone industry in the Western Cape, where he operates his design studio and where his world famous garments are made.
With his new appointment, Gavin Rajah joins global celebrities such as tennis great Roger Federer, singers Ricky Martin and Shakira and South African football and music stars Quinton Fortune, Zola and Yvonne Chaka Chaka, who use their celebrity power to advocate for improvements in the wellbeing of all children.





(No Ratings Yet)


Loading...