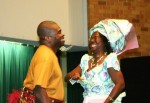 Centuries away from undiluted Igbo customs, and thousands of miles away from the land of their ancestors, Minnesota Igbos strive to keep their traditions alive.
ST. PAUL, Minn. – Young women wiggled their bellies and shook their torsos to the tune of the music. Gentlemen – with bundles of one-dollar bills in their hands – lined up to tip their favorite dancers. Women dispensed generous amounts of dollars, too. It was one big party, but not the kind you are thinking about. It was the fourteenth-annual IgboFest.
 
Members of Umunne Cultural Association, an organization of Igbo-speaking Nigerians in Minnesota, gathered Saturday at the University of St. Thomas in St. Paul to celebrate their culture. Women, men and children braved the showers that descended on the Twin Cities all day to form long lines at he food kiosks.

Inside the O'Shaughnessy Education Center auditorium, two young women stood on stage, ready to sing. The first one sang the Star-Spangled Banner. Two people – perhaps American friends of Umunne – sang along. But when the other young woman took the microphone and began to sing, "Arise, O compatriots, Nigeria's call obey, …," the auditorium joined and applauded loudly when she finished.
Throughout the day, the theme of the festival seemed to be "Dance, dance, dance," and people came from far places to join their countrymen in performing traditional Igbo dances and rituals.
"There is a brother-sister relationship between us and Umunne," said Uba Nwaerondu, as sweat dripped down his face.
A minute earlier, Nwaerondu, who traveled from, Manitoba, Canada, was on stage, clad in a golden-brown T-shirt and a multi-colored cloth wrapped around his waist, shaking his abdomen and stamping his bare feet. Jingles from small bells attached to a waist belt filled the room, as men and women cheered and showered him with dollar-bills for "Ubamara," a special dance he said he had invented and named by combining the first two letters of his name and Amara, his wife's name. Nwaerondu belongs to Umunna Cultural Association, (not to be confused with Umunne) based in Winnipeg, Manitoba.
"Umunna means 'children of the same father,' and Umunne means 'children of the same mother,' he explained. "We are all descendants of the same parents."
So special is the relationship between the two organizations that each group makes efforts to send representatives to the other's festival. Umunne dancers traveled to the Twin Cities to Winnipeg in July to attend Ummuna's IgboFest. The trip prompted Nwaerondu and other dancers to come to St. Paul – not only to return a favor, but also to showcase their new dance moves.
"It is a well-natured competition between us," said Ifeoma Okwor, a University of Manitoba graduate student of immunology, whose Umunna troupe danced as drummers and percussionists played traditional Igbo beats.
The highlight of the evening was Ummune's Bende war dancers. Imagine four clean-shaven topless black men wearing red, white and blue-stripped Santa hats and kilts similar in color, but not as neatly tailored as Scottish ones. In fact, they were not tailored at all. Then add eight similarly dressed little helpers aged between 10 and 12 with – like the Santas – dry blood-like emulsion on their bare chests. Now imagine them dancing to West African drums, bells and flutes.
"This is who is going to carry the mantle and make sure the tradition continues," Austin Wamuo, the group's leader, said of the boys. "We want them to master the traditional Igbo culture and pass it on to future generations."
Wamuo has been commander of the warriors since the first IfboFest. He retired on Saturday.
The dance is unique to the Bende region of Igbo and is a celebration of victory in war against a non-Igbo tribe, said Marcus Kalu, who went around the hall dipping a white fly whisk in a bowl of water and spraying "villagers" to cleanse them of "evil spirits." His ancestors used palm wine.
As the younger warriors danced around the stage, one of the older men paraded three skulls supposedly decapitated from to the enemies they had "killed." Ironically, all the warriors still carried between their teeth eight-inch pieces of golden-yellow paper, like pigeons delivering messages of peace. The rolled-up and twisted papers were supposed to be dry palm leaves traditional warriors placed in their mouths to ensure they "concentrated on the task of fighting and killing the enemy." The warriors are forbidden to talk until the cleansing ritual is finished.
"We try our best to accurately simulate the way it was done in the past," Kalu said.
The festival is not only about past traditions, however. Young people are allowed to show that the past and the present can come together harmoniously. That is why four girls, whose group was so new they hadn't even thought of a name for it – received cheers and applause for a routine that was not even remotely Igbo: They danced to the late South African diva Brenda Fassie's hit song, "Vulindlela."
It is this kind of flexibility that has made the festival popular across generations, said Diane Uchechi Okwulehie of St. Paul, who has attended IgboFest every year since it's founding in 1993.

"The festival has quite grown," Okwulehie said. "Every year more people from outside (the Twin Cities metro area) come to celebrate with us."
Money raised from the festival goes toward promoting Igbo cultural education and awareness, according to Umunne's Web site. The organization hopes to raise enough money to acquire a building to serve as a permanent Igbo cultural center.
Edwin Okong'o is a Mshale Contributing Editor. Formerly he was the newspaper's editor.





(No Ratings Yet)


Loading...