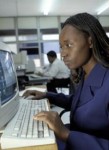 Africa has been rated fourth in broadband penetration among six continents that were sampled by the Economist Intelligence in the year 2007.

The study conducted by the Economist Intelligence Unit (EIU) rated Africa as fourth in its uptake of broadband services within the Middle East and Africa (MEA) region scoring 7.4 behind North America 10, Western Europe 9.9, Central and Eastern Europe 7.6. After MEA came Latin America with 7.3 and Asia Pacific 7.1 within the six regions under review.
"Scores are on scale of 1-10, with 10 representing the highest level of affordability," EIU stated.
Africa's positive but slow response to broadband is attributed to Africa's gradual liberalisation of the telecommunications market.

EIU precisely cited South Africa as an example of where broadband deployment progress has made broadband access much more affordable in recent years if online retails sales are anything to go by, said the report.

"South African e-commerce consultancy World Wide Worx reports that online sales of consumer goods grew by 25 per cent in 2006 to the tune of R688 million (about
$94 million), and expects it to expand by another 35 per cent in 2007," EIU added.

South African enterprises, the study indicated have in turn leveraged online services to manage growth more efficiently, particularly in newly competitive
industries: low-cost airlines have burgeoned in South Africa in the post-apartheid era, in large part owing to online bookings.

EIU explained this phenomenon by citing four primary airlines who sell online tickets and have made a fortune of R1.8 billion in 2005, with Kulul.com accounting for 60 per cent of that trade, thus becoming the country's largest online commerce site.
The study further noted that as broadband goes increasingly wireless, consumer familiarity with mobile devices such as phones and handheld computers would help
individuals make the most out of the Internet.
The survey also showed that the ability to tap into broadband while on the move is increasingly becoming a contributor to improved employee productivity in many
countries.
The EIU also said that this influence is not in the area of penetration only but equally its affordability to households in developing economies most of which
are in Africa matters.
"Broadband is increasingly affordable in the developing world," the white paper made available to Highway Africa News Agency (HANA) stated.
In addition, EIU pointed out that the goalpost has shifted in terms of connectivity based on broadband accessibility.
The study also shows that certain types of connectivity are proving better than others in enabling e-readiness and broadband has been found to be enjoying more effect in the Information and Communication Technology (ICT) industry worldwide.
The study was written in co-operation with the International Business Machines (IBM) Institute for Business Value.





(No Ratings Yet)


Loading...