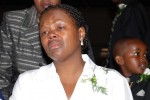 POWDER SPRINGS, Ga. – The detectives investigating the murders of a Kenyan mother and her two daughters, whose badly battered bodies were discovered on Aug. 1 in their Atlanta area home, said they have made significant progress in the case.
Speaking to Mshale in two separate interviews, the detectives said they were following crucial leads and assured the public that they would apprehend the perpetrators of the heinous acts.
The attack that killed Jane Kuria, 45, and her daughters Isabella Kuria, 19, and Annabel Kuria, 16, also left the woman's son, Jeremy Kuria, 7, and his cousin Peter Thande, 10, seriously injured and unconscious.
Kenyans – both in the United States and Kenya – have been eagerly waiting for information on the apprehension of the killers. Investigators have been silent about the case, sparking accusations by frustrated Kenyans that the authorities are not giving the matter the seriousness it deserves.
The lead investigator in the case, Detective William Hewell of the Powder Springs Police Department said the progress made so far was promising, although he declined to disclose further details.
And Detective John Dawes of Cobb County Police Department, who is helping with the investigations, said he was waiting to interrogate some of the Kenyans who accompanied the bodies to Kenya, as soon as they return to the United States. Dawes said he was also scheduled to speak to young Peter and the boy's mother when they returned from an undisclosed out-of-state location. He added that he would soon be analyzing forensic data, which was being processed.
"I must also say that most of the people who we have talked to us so far have been very co-operative," Dawes said.
The officers appealed to the public to be patient, saying that the homicide case was delicate and complicated and that the investigations could not be rushed.
The Kenyan ambassador to the United States, Peter N.R.O. Ogego, asked Kenyans with any information that may help solve the murders to step forward and give it to the police. Ogego said he had full confidence in this country's justice system.
"It may seem as though they are not doing much right now, but I can assure you that regardless of the length of time it takes, the perpetrators will be brought to book," Ogego said on a phone interview from his Washington, DC office.  "I have been speaking to the detectives on a regular basis and they have told me that they are on top of things."
Ogego said that the authorities had assured him that there would be no victimization whatsoever and that any information given to the police would be treated confidentially.
A sister of Jane Kuria said that she hoped the killers of her sister and nieces would be caught. Speaking from her home in Lynn, Mass., Margaret Njeri expressed her optimism that the police would soon nab the culprits.
"My mom back home and my three siblings, one of whom is here with me, are also hopeful that we will soon get answers to the many questions that we have been asking," Njeri said.
Jane Kuria and her children arrived in Boston in 2001, after the death of her husband. She and her daughter applied for asylum, saying that because of their opposition to female circumcision, their lives were in danger if they returned. After her death, her immigration lawyer, Charles H. Kuck told The Atlanta Journal-Constitution that her asylum was denied and he was in the process of appealing before she was murdered.
Speculation has been rife as to who and why anyone would commit the crimes that left many with more questions than answers. Kenyan online forums have thrown around the name of Mungiki, a violent Kenyan group that has been said to kidnap and circumcise women.
Following the murders, Rev. Dr. G.G Gitahi of Kenya American Community Church, where Jane Kuria fellowshipped just two days before she and her daughters were murdered, cautioned the congregation against speculation.
"Careless speculation can only exacerbate the situation," he said. "I urge you to shun unsubstantiated statements and let the investigating authorities do their work."
Anyone with information on the murders is asked to call Cobb County police Crimes Against Persons Unit at (770)499-3945. Those who do not wish to be identified may call Hewell gave two tip-lines where those who do not wish to be identified may call (678)567-2490 or toll-free, (888)322-8884).
BMJ Muriithi is Mshale's correspondent in the Atlanta area.





(No Ratings Yet)


Loading...