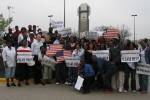 President George W. Bush extended the stay of Liberians who are on Temporary Protected Status yesterday, ending the anxiety that has been looming over citizens of that country, as the Oct. 1 deadline for them to leave the United States came closer.
"Although the armed conflict in Liberia ended in 2003 and conditions have improved, I have found that the political and economic situation in Liberia continues to be fragile," President Bush wrote in a memorandum to the Secretary of Homeland Security, Michael Chertoff.
In reaction to the good news, the President of the Organization of Liberians in Minnesota, Martha Sinoe, said Bush's announcement was a result of tireless lobbying by not only Liberians, but also human rights organizations and other well wishers.
"We are very thankful to the people of Minnesota, the media and advocacy groups that helped bring attention to the cause," Sinoe said.
There are approximately 1,200 Liberians residing in Minnesota under TPS. Various organization, local and national have been rallying for Congress to extend the status of Liberians who fled the civil war and were allowed to resettle in the United States temporarily.
Edwin Okong'o is a Mshale Contributing Editor. Formerly he was the newspaper's editor.





(No Ratings Yet)


Loading...