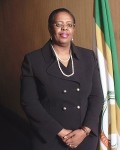 UNITED NATIONS – Mr. Ban, like many participants at today's meeting, stressed the importance of bringing a sustainable peace to the war-ravaged Darfur region of Sudan, where the Council has authorized the creation of the first AU-UN hybrid peacekeeping force in Darfur, to be known as UNAMID. At full deployment, it will have some 26,000 troops and police officers, making it the largest peacekeeping operation in the world.
"It is an expression of our collective commitment to end the tragedy of Darfur," the Secretary-General said of UNAMID.
Voicing support for the hybrid force, United States President George W. Bush noted that 200,000 Darfurian "innocents are no longer with us," and that more than 2 million others who have been displaced by the violence hope to return to their homes and live in peace. "It's our duty to help them realize that dream," he told Council members.
Kim Howell, Minister of State for the United Kingdom, said that Sudan must cooperate with the International Criminal Court (ICC). "Let's not forget the need for justice," he said, adding that "the age of impunity is dead and there can be no impunity in Darfur."
Speaking in his national capacity, Mr. Sarkozy also stressed the importance of justice and "respect for humans." He noted that "we must be completely categorical about the respect of human rights, on the progression of the rule of law, the need for justice and on punishing criminals."
Several participants also appealed for intensified efforts to bring stability to Somalia, which has been riven by factional fighting and has had no functioning central government since Muhammad Siad Barre's regime was toppled in 1991.
President John Kufuor of Ghana urged the Council "to show equal commitment to the protracted conflict in Somalia as in Darfur," and consider a contingency plan for the possible deployment of a UN force to replace AMISOM, the AU-led mission in Somalia, by next February.
"We must encourage an inclusive political dialogue for national reconciliation," President Denis Sassou-Nguesso of the Republic of Congo said. He said he expects the UN to support AMISOM, and welcomed the AU-UN partnership, as well as the participation of regional organizations such as the European Union (EU) and the League of Arab States.
President Thabo Mbeki of South Africa underscored the importance of Africa finding solutions for African problems. He also cited the need for greater resources to allow the continent to tackle key challenges to establish a far-reaching framework for peace and security on the continent.
The answer to Africa's problems lies with African cooperation, China's Foreign Minister Yang Jiechi said. "One should not impose one's own way on them," he noted. "Only unity among African countries can lead to a bright future for the continent."
African achievements – including steps towards deepening regional integration and economic growth – prove the continent is "now a protagonist and no longer just an object of international relations," said Italian Prime Minister Romano Prodi.
Sheikh Hamad Bin Khalifa Al-Thani of Qatar noted that donor nations and the UN have provided much support to Africa. "To be fruitful, however, this support must be accompanied with two conditions: namely, good and enlightened governance, and an effective international will guaranteed by collective action to be undertaken by the United Nations," he said.
As Africa continues to recover from the consequences of colonization, it is crucial that any policies to help the continent respect the "rights and dignity of the African peoples" and that the international community desist from pursuing policies that are "relics of the past," said President Martin Torrijos of Panama.
Foreign Minister Jose Antonio Garcia Belaunde of Peru said that peace and security in Africa involves four main variables: prevention, cooperation with regional and sub-regional organizations, the humanitarian issue and post-conflict management.
Indonesian President Susilo Bambang Yudhoyono voiced hope that responding to the economic, social and political challenges to peace and promoting interregional cooperation for peace will bring stability to Africa, pointing out that some conflicts that appeared intractable five years ago have been resolved.
In settling African conflicts, Russian Foreign Minister Sergei Lavrov noted that "special focus should be given to addressing chronic political and socio-economic problems," while issues such as the strengthening of state governance, the development of democracy and the fight against poverty and corruption are within the scope of the AU and the UN.
President Ivan Gašparovic of Slovakia underscored the complexity of African tragedies, with security, development and human rights being interlinked. Thus, he expressed his country's concern for Zimbabwe, where the crumbling economic and political situation could potentially lead to conflict.
Characterizing the issue as "one of Africa's biggest outrages," Belgian Prime Minister Guy Verhofstadt drew attention to the plight of the 300,000 child soldiers on the continent. "Each one of them is a stain on the soul of human civilization," he said, calling for the imposition of a weapons embargo on all countries with child soldiers and the end of impunity for offenders.
Wrapping up the session, Mr. Konaré noted the continent needs the support of the international community in training its troops, improving its information technology and, most importantly, in providing more predictable and regular financing. "Currently, operations are financed one by one. That does not make it possible to deploy rapidly," he told the Council. As a result, "interventions come too late."





(No Ratings Yet)


Loading...