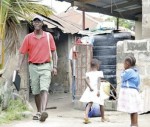 Up-and-coming Tanzanian moviemaker and Minnesota resident, Josiah Kibira, is working on finishing touches for his third movie shot on location in his country of birth. The title of his movie is "Bongoland II," which he describes as being about "looking at us (Africans)in our own backyard."
"We are questioning how we do things and why we accept things the way they are just because someone is afraid to scream –'the emperor is naked,'" says Kibira.
His first movie was "Bongoland" and his second movie was "Tusamehe," the first being on problems that Africans face when migrating to America and the second one was an educational film on HIV/AIDS.
Last summer, Kibira traveled to Tanzania with a strong contingent of film technicians wielding a $7,000 High Definition camera purchased by his Director of Photography, Sam Fischer. Kibira's film crew was accompanied by a group of seven American students from the University of California, Los Angeles, who joined him for an internship on film-production.
Faced with a staggering hard to raise budget of $ 30,000 for the project, Kibira was lucky to find a Tanzanian filmmaker Musa Kissoky of Sofia Productions, who gave him two vans to use for free and opened his shop for the film crew.
"He was like a surrogate brother looking up for us the whole time we were there," Kibira says. Kibira also discovered longtime professional actor, Mzee Kipara, a household name in the acting circles having made his mark out of many years of creative radio plays aired by Radio Tanzania. He also teamed up with Gervais Kisiga, a student from the University of Dar es Salaam, who has already produced one movie as film director and was "casting director for this movie responsible for pulling talents of best actors from the university and elsewhere."
What was Kibira's greatest challenge in carrying out this project? "In one word I would call it logistics," he answers. "Calling the actors about where they need to be next day and what they should wear and how they will get there. All this was to be done by my assistant director who does not speak Swahili and does not know the city (Dar es Salaam). So, it defaults back to me being on the phone all the time, translating for my assistant director and conveying the information to the cast."
Kibira sees movie making as "a personal mission, a passion of mine and rain or shine we [I] will head forward for as you know we are lagging behind in Swahili movies." His goal is to produce few but high quality movies with a message that his audience can identify with.
"There is more emphasis in mass production and less emphasis for quality,"Kibira says. "This has been the formula for countries like Nigeria. I am of the opinion that if our films are of greater quality, they should appeal to all humans … across the board. This way we can all share our stories with the rest of the world."
Beyond "Bongoland II," Kibira plans to make a movie with his Kenyan counterparts. He says this is the way forward to "expand our reach across the border." Currently three of his Kenyan teammates are working on a story for the next movie.
He adds reassuringly, "After that movie from Kenya, we may revisit Tanzania again and pursue a movie about Julius Nyerere."
Kibira supports the use of Swahili as Africa's lingua franca. "We need a lot of support from policy makers. Making Swahili a lingua franca of Africa is huge step in the right direction," he says. "People outside Africa are forced to see the magnitude of the language. As you know Swahili is spoken by over 100 million people in the
world and our focus have primarily been the people of Tanzania, but now we are looking beyond our borders."
Kibira says African governments have a duty to support these efforts by funding the arts and performance institutions so that people have well trained experts who can preserve the respective countries' cultures.
Kibira credits the United States Embassy in Tanzania, whose acknowledgement gave his second movie recognition in the Pan African film festival and organized for its screening to be seen by the people of Tanzania. "Tusamehe" was shown by the embassy to media practitioners,leaders of non-governmental organizations and a selected audience of policy makers and the general public.
Regrettably, notes Kibira, "even after the Dar es Salaam embassy screening of our movie, there was no official word from the government (of Tanzania)." He notes that he deserved a little "pat on the back" for doing the right thing. With or without recognition, awards or fanfare, Kibira is determined to pursue his passion and "personal mission" of making quality movies. He is inspired to continue being the voice of the over 100 million silent majority of Swahili speaking peoples of Africa and the Diaspora "telling their compelling stories" to the rest of the world.
"Bongoland II" will be released in early 2008.

Swallehe Msuya was a senior staff writer at Mshale with extensive media experience in his native Tanzania. He was a general assignments writer. Investigative stories that Mshale undertook were normally his responsibility. Swallehe passed away in Sept. 2009 at the age of 61. Mshale will forever miss his tenacity and wisdom.





(No Ratings Yet)


Loading...