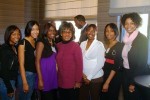 MINNEAPOLIS- Historically, Minnesota has been at the forefront of the women's movement. With the endorsement of Sen. Hillary Clinton for the Office of the President of US, the Minnesota Women's Political Caucus continues to support progressive women in office.
Although Maxine Waters represents a Californian district in Congress, she attributes her political success to women both in her district and in many other parts of the country including Minnesota.
"I was the underdog without the support of the political establishment and with no budget for a campaign," she said. "I got support from women."
Congresswoman Waters was speaking at the 29th annual luncheon of the Minneapolis Women's Political Caucus, where she gave the keynote address.
There is progress but …
With about 90 women in Congress, Waters asked women to continue running for public office.
"Women pay attention to not only women's issues, but are involved in all areas of public policy," she said.
She argued that having more women engaged in matters of public policy would improve not only the rights of women and children, but also general policies.
In response to a question from the audience about income disparities between genders, Waters advised women to get more involved and participate in board decision making, teach young women their worth and educate women on compensation and job numeration.
Studies show, that across the board, women still earn less than men, about 77 cents on every dollar.
"Do not support women who demonstrate that they do not care as they do not advance the women's cause," she said, in reference to actions and comments made by conservative public commentator Ann Coulter.
In a couple of interviews Coulter has said that because women, mostly single women, are liberal, their right to vote should be taken away to allow for only Republican administrations.
In an apparent continuation of her dissent in Congress against the war in Iraq, Waters said, "Not another nickel! Not another dime! Not another soldier! It is unpatriotic and un-American to allow a senseless war."
Other speakers included the president of the National Women's Political Caucus, Lulu Flores, who congratulated MWPC for being one of the most active women's political caucus in the country.
"In endorsing Senator Hillary Clinton we are encouraged that she will overcome the final barrier for women in this country."
Over the last year, MWPC has been working towards increasing the participation of women of color in public office. As part of this initiative, MWPC has launched its Diversity Outreach Project. See Mshale report here.






(No Ratings Yet)


Loading...