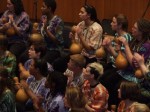 ST. PAUL, Minn. – With European names like Macpherson, McCurdy, Crockett, and Sollenberger, one might think resulting music would include an accordion or bagpipe. But the fall concert held at the Janet Wallace Fine Arts Center of Macalester College in St. Paul on Dec. 8, presented African sounds, lead by Sowah Mensah, ethnomusicologist, composer, and master drummer from Ghana.
The 55-voiced combined African Music ensembles from Macalester College and the University of St. Thomas used a wide variety of authentic drums and gyil (xylophones) to entertain a crowd of over 200 people. The 90-minute show performed traditional music from Africa, including Ghana and Zimbabwe.
The ensemble, dressed in the colorful garb of traditional African dress, often seemed to take their cue from either their director Mensah or his college-aged son and ensemble participant, Nii Adjetey Mensah.
In fact, the ensemble resembled a highly skilled high school choir throughout much of their performance. Maybe my expectations were too high, they aren't the Soweto Gospel choir, after all. But seeing a few members standing vacantly, their hands stuffed in their pockets as they sang, distracted me from the aural experience.
Often, when the occasional solo voice sang out, I wanted to hear the raw power and muscle I associate with the African voice. Sometimes I did, but not consistently. I felt they needed to go deeper into the music and completely surrender to the rhythms and atonal harmonies of African sound.
Beyond the vocal aspect, they also played instruments. This elevated the musical acumen as well as added to the visual enjoyment of the show. In addition to the common congo drums and gyil, they used the tamani, also known as a talking drum, squeezed under the arm pit, atenteben (flutes), bells, rattles, mbiras, marimbas, horns, and gourds.
The percussive elements gave attending students enough rhythms to dance in the balconies and on the main floor. The elder Mensah joked that the dancing students, who were also pupils in his class, would receive credit for their participation.
Sowah Mensah maintains his position as director not only at Macalester and St. Thomas, but also the University of Minnesota. He directs Sankofa, a Ghanaian folklore and dance ensemble in the Twin Cities and makes up one-fourth of the group Speaking in Tongues, based in the Metro area that includes two percussionists, a bassist, and a Chinese pipa player. Follow this link for more information.
Coming in mid-February, 2008 will be a small group from Ghana to perform with the African Music ensemble at Macalester College.
Susan is based in Minneapolis and reports on general assignments for Mshale with a focus on entertainment. In addition to reporting, she is also a writer, poet, teacher and coach.





(No Ratings Yet)


Loading...