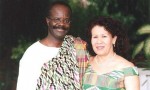 Conventional People's Party candidate's calendar will include a visit to Minnesota, where his U.S education began.
Paa Kwesi Nduom, who was recently nominated to represent the Convention People's Party in Ghana's Dec. 7, 2008 Presidential elections, will begin a five-city tour Friday to thank his U.S.-based countrymen and others who helped his bid, a campaign official said.
Nduom's youth coordinator for the United States, Nana Kweku Nduom, who is also his son, said that during his tour, his father will also spread his vision for Ghana.
"He wants to meet and the thank people who supported him and to tell them about his vision for Ghana," Nana Nduom said.
Between Feb.1 and 11, Nduom will visit San Francisco, Calif., Washington, DC, Minneapolis, Minn., Milwaukee, Wis., and Chicago, Ill.
Nduom, 53, won CPP's nomination during the party's primaries on Dec. 15, 2007, garnering 52 percent of the vote in a contest that pitted six candidates.
Prior to serving Ghana as the Minister of Public Sector Reform, his most recent position, Nduom was Minister of Energy from 2003 to 2005, and Minister of Economic Planning and Regional Cooperation from 2001 to 2003. He was the chairman of the National Development Planning Commission between 2001 and 2003.  Nduom also served as Member of Parliament from the Komenda-Edina-Eguafo-Abirem central coast region.
Nduom received his high school diploma from Cokato High School in Cokato, Minn., where he spent a year in 1970 on an American Field Service scholarship. While in Cokato, he participated in debate, football, track and field and soccer.
He left the United States after high school, but returned in August 1973 and took classes at the Milwaukee Area Technical College and Marquette University before he transferred to the University of Wisconsin to obtain a BA in Economics in 1975. He continued in the same university to earn an MS in Management from the School of Business in 1977 and a Ph.D. in Service Delivery Systems in 1982.
Like many immigrant students, Nduom funded his university education by working several jobs. Some of the jobs he held were at a meat factory, a parking lot, a cannery and an internship with Northwestern Mutual Life Insurance Company, all in Milwaukee, Wis.
Nduom returned to Ghana with his family in 1991 after working for Deloitte in Milwaukee and Falls Church, Va. In Ghana, he became The Chairman of the Board for the Africa Region before leaving Deloitte in February 2001 to serve his country in government.
For venue information on Nduom's tour visit www.betterghana.net.
Edwin Okong'o is a Mshale Contributing Editor. Formerly he was the newspaper's editor.





(No Ratings Yet)


Loading...