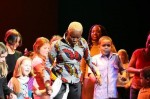 ST. PAUL, Minn. – It is a cold Sunday evening on Jan. 13, as more than 1400 people gather at the Ordway Center in St. Paul. They are here to see Angelique Kidjo, the five-time Grammy nominated singer, along with her five-piece band.
Slated as a late afternoon concert, starting at 5:00, the crowd filters into the lush seating offered by the Ordway. Many of the patrons are quite young. In fact, seated to my right is a gentleman escorting four children. Children are, after all, one of Kidjo's passions.
Without much delay, we see three guitarists and two percussionists cross the stage and take their places. They warm up the audience with jazz-inspired music. Kidjo appears and they perform a cut off her most recent album, Djin Djin, nominated in December, 2007 for a Grammy in the category of Best Contemporary World Album.
Instantly I note two items. First, Kidjo is an amazing dancer. Her silken, midnight-blue pants clearly outline her well-defined leg muscles. And second, her electric-pink jacket, which falls midway down her hips, along with her too-high-heeled boots detract profoundly from my ability to enjoy watching her dance.
It seems catty to bring up her appearance only to tromp on it, but the truth is, I'd much rather see her in either African attire or something Westernized so that it also allowed us to see her distinctive African dance movements. The heels throw her body out of line so that the trenchant staccato of her hips for which West African dance is known, looks imitative rather than organic to this Benin-born musician.
This show, her first in 2008, starts off a string of concerts dipping down into the Caribbean and then flying up to the northwest corner of the United States and parts of Canada. Her broad appeal ties into her ability to connect to her audience, often Kidjo is able to speak in the same language as the country in which she is performing.
Kidjo shows her fans why her albums have been making a mark in the music world for over a quarter of a century. She has remained true to her African roots, maintaining the beat and rhythm of West African music, but she's transposed the sound onto Western instruments.
Her sixth song opens like a creeping cat, seductively sliding up against our legs, making them want to get up and dance with her. People sway and bop in their seats. It's a shame that concert halls are built the way they are – omitting a central dance floor, although I see the practicality. What's lost is the intimate atmosphere of a small dance hall where a fan can see, up close, the effort and energy of the performer.
As if reading the collective mind of her audience, Kidjo invites her audience up on stage. Well over a hundred people climb the steps and dance with this star performer. Her percussionist from Senegal walks out into the throng playing his Congo drum. Many in the audience are African immigrants who know how to dance and they take this opportunity to indulge. Kidjo specifically talks to the children and holds their hands as she leads them in dance.
Kidjo spends much of her time advocating for children while off-stage. As a Goodwill ambassador for UNICEF International, Kidjo has appeared in public service announcements as she seeks to make the world a safe place for children to live.
During the show, Kidjo speaks out against terrorists. "When you believe in God, you can't kill," she speaks to the microphone. "If you want to kill yourself, go ahead, but do it alone and don't claim you're doing it in the name of God."
Susan is based in Minneapolis and reports on general assignments for Mshale with a focus on entertainment. In addition to reporting, she is also a writer, poet, teacher and coach.





(No Ratings Yet)


Loading...