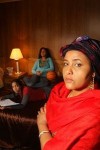 A movie highlighting the struggles a Somali mother to provide for her two teenage daughters and a husband stuck in East Africa is coming to the Minneapolis/St.Paul International Film Festival beginning this month.
Directed by Helene Klodawsky and produced by Ina Fichman of Instinct Films and Ravida Din of the National Film Board of Canada, Family Motel employs an unusual improvisational approach to cinematic storytelling.
 It was the subject matter the widespread phenomenon of homeless families being housed in suburban motels that dictated this choice, says Klodawsky. A fictional approach allowed us to explore all the issues relating to homelessness in a fresh manner through an original narrative of one woman and her struggle to protect her family.
The film features first-time actresses Sam Sam Ahmed, aka Nargis, and her real-life daughters Asha Jibril and Leila Jibril, who reside in Canada.
The movie tells the story of Headstrong Ayan, (Nargis) a refugee from Somalia, who comes to Canada with big dreams with the intention of showing anyone that she can provide for her family. But what she finds is how difficult it is to keep it all together. On top of the soaring rent, her daughters, 16-year-old Nasrah (Asha) and 13-year-old Sagal (Liela), need braces. Even after taking two jobs as a cleaner, it's tough for Ayan to take care of herself and her daughters and still have money left to send to her anxious husband and two sons stuck in East Africa.
Ayan's confidence is shaken when her landlord unexpectedly evicts her for late payment of rent. It is the beginning of the summer break from school, and the city faces a severe housing shortage. Ayan and her daughters are exiled to the city's tattered hinterland among other homeless families, prostitutes and other unsettled souls.
Ayan knows all too well the grief that comes with losing a home. A true survivor, she tries to rebuild from within the small motel room she shares with her daughters. But what she can't tolerate is Nasrah's increasing estrangement, especially during her mother's greatest time of need. During the long days of summer, while Ayan is at work, Nasrah grudgingly does chores and looks after her sister. A handsome young motel neighbor, Rudy, surfaces and offers Nasrah friendship and understanding. But he is not what he seems like, and innocuous cell phone conversations spark a new crisis. Ayan comes close to losing all she holds most dear.
A vibrant and contemporary feature drama fired by a trio of remarkable debut performances, Family Motel charts one eventful summer in the lives of Ayan and her girls as they confront life on the edge.
Drawing upon a vivid palette of atmospheres and emotions, Klodawsky and cinematographer Germán Gutiérrez craft a richly detailed urban drama. Somali-Canadian rap artist K'naan and composer Bertrand Chenier contribute a score rich in color and rhythm.
Finding inspiration in the alternative dramas pioneered at the National Film Board of Canada as well as community-based storytelling, Klodawsky and her collaborators deftly fashion a fresh and authentic tale of falling through the cracks in a land of plenty and a stirring portrait of dignity under fire.
The Minneapolis/St. Paul International Film Festival takes place April 17 – May 3. In addition to Family Motel, it will feature Dry Season, a film about a Chadian boy who sets out to find a war criminal who killed his father, but ends up looking up to him as a father figure. Family Motel screens on April 19 at TK and Dry Season on April 23 and 24. For more information visit www.mspfilmfest.org.
Edwin Okong'o is a Mshale Contributing Editor. Formerly he was the newspaper's editor.





(No Ratings Yet)


Loading...