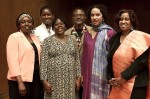 BLOOMINGTON, Minn. – A pre-screening and panel discussion of the public television film Iron Ladies of Liberia left many in the audience of about 125 people, some with ties to the country which the film portrayed, inspired, motivated and hopeful for the future of a nation that has experienced tremendous strife in recent years.
The March 15 event was sponsored by the college's Center for Multicultural Services in collaboration with an array of community organizations. The film takes a behind-the-scenes look at the administration of Ellen Johnson-Sirleaf, Africa's first freely-elected female head of state.
This was a wonderful way to reach out to the community and show that diversity is not a black-white thing but includes all ethnic groups, said Wynfred Russell, director of Normandale's Center for Multicultural Services. In sponsoring this event, we were able to reach out across many communities.
The film shows Liberia's president meeting with many groups, sometimes filled with hostile people, as she tries to mediate situations as varied as unfair worker treatment by Firestone Tire and Rubber Company to corruption within her own government. Throughout, Sirleaf is shown displaying both firmness and compassion. Many in her Cabinet are women as well.
Wachen Bedell Anderson, associate dean of students and multicultural education at the College of St. Catherine in St. Paul, a panelist, spoke to an audience eager to discuss the elements in the film. The daughter of Liberian parents, she said that while the Liberia depicted in the film clearly faces its challenges, it is not as troubled as the Liberia her older brother often described to her in the past.
Dr. Alfredmy Chessor, a resident at Hennepin County Medical Center who has traveled to her native Liberia to bring donated medical supplies, another panelist, was impressed with Sirleaf's ability to hide her emotions while holding critical meetings.
Her leadership style is diplomatic and inclusive, Dr. Chessor said of the leader. She is a peacemaker.
Agnes Odinga, an assistant professor of history at Minnesota State University, Mankato, agreed, adding that Sirleaf had turned the table upside down regarding traditional leadership methods because she truly listens before giving directives.
Wokie Weah, another panelist and the author of Challenge and Opportunity: Educating Liberia's War-affected Children in Primary Grades, said that Sirleaf, who is often referred to as Ma by the citizens of Liberia, wisely avoids using fear as a method of control.
Shannon Gibney, who teaches English at Minneapolis Community and Technical College, served as moderator for the panel.





(No Ratings Yet)


Loading...