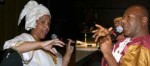 African-born blacks and their American-born kin – long separated by stereotypes – are trying to reach out to each other, thanks to the American school system.
SACRAMENTO, Calif.– Perhaps because of the stereotypes of high illiteracy associated with Africa,immigrants from the continent excelled in universities in the United States without anyone noticing. Then in 2007, "just out of curiosity," Kefa M. Otiso,a Kenyan-born professor of Geography at Bowling Green State University in Ohio, started looking at African immigrant data from the 2000 U.S.census.
There was a lot of joy and pride when Mshale reported Otiso's findings back in June 2007 that African immigrants performed better than the rest of the U.S. population in education and employment. For instance, the rate of Africans with an undergraduate degree and above was 43 percent, compared to 24 percent among general U.S. population. The average annual personal income of African immigrants was about $26,000, nearly $2,000 higher than that of American-born workers.  Also,a larger percentage of Africans (71) aged 16 years and older were in the workforce, compared to 64 percent of Americans.
A year later, another professor, Nigerian-born Ernest Uwazie, is trying to warn African immigrants about a problem that threatens to taint their impressive report card: academic achievement gaps between black and white students in American schools.
Only 15 percent of black students were at or above the proficient level in reading, compared to 50 percent among white students,according to the 2007 report of the National Assessment of Educational Progress, an arm of the U.S. Department of Education that conducts continuing assessment of what American students know and can do in various subject areas.Proficiency in math was at 16 percent for black students and 61 percent for white students.
"It hurts me to think that my children and other second-generation African immigrant children may never make it to college because of the achievement gap that exists between black children and white children in American schools," said Uwazie, who teaches criminal justice at California State University, Sacramento.
Uwazie is trying to remind the first generation of African immigrants that they have done well in American institutions of higher education only because they came from strong primary and secondary education systems. As many Africans choose to stay in the United States, their children risk falling victim to a school system that is unkind to black children.
Uwazie sees the threat to the educational merits of the children of African immigrants to be so severe that the Center for African Peace and Conflict Resolution (CAPCR), which is based at CSU Sacramento and headed by him, dedicated its 17th annual convention held, May 1-3, to finding a way to bridge the achievement gaps.
Rather than go at it alone, Uwazie invited African Americans to the convention, in an attempt to start dialogue between two groups that have historically kept each other at bay with stereotypes.
"Achievement disparities affect our children just as much as they affect African American children, so we have to put our perceived differences aside," Uwazie said.
What Uwazie meant was that although the children of African immigrants have African names, they are African American by upbringing and will not be spared by what black parents see as unfair treatment by the school system.
By initiating dialogue between Africans and African Americans, Uwazie is crossing a line not many people from either side have.Africans, who, as noted earlier, have found great success in higher education,have always perceived Africans Americans as people who are lazy and unwilling to take advantage of the opportunities that exist in the United States.
African Americans on the contrary accuse Africans of being elitist and identifying more with white Americans than their black brothers and sisters.
During her keynote address, Zetha Adekele Nobles, an African American and a PhD. student at the University of California, Berkeley,who also works for the West Contra Costa (Calif.)Unified School District as a strategic focus specialist, said that there was an urgent need to close the educational achievement gaps, not only in California,but also nationally.
"Forty-five years after Dr. King delivered the dream speech,a 17-year-old black child is taught math at the level of a 13-year-old white child," said Nobles, whose presentation looked at academic disparities. "Schools are setting lower expectations and a less demanding curriculum for black kids."
Lower performance among black students leads to more of them being placed in special education classes, said Peter L. Lambert, an African American and the principal of Harriet Eddy Middle School in Elk Grove, Calif. Lambert urged parents to get more involved in matters of their children's education and oppose any attempts to put their children in special education. Lambert, who grew up in North Carolina, said his life could have ended up so differently had his mother not been steadfast in advocating for him.
"My parents told me that teachers started saying that I needed to be in special education, but my mother fought against that and absolutely would not let that happen," Lambert said. "And somehow, someway, the African American young male, who should have been in special education, was able to graduate from high school after taking five AP (advance placement) courses and passing all of them, went to college and got two master's degrees to become one of the youngest principals in the district that I work in."
Chigoziri Okere, who was born to Nigerian parents and grew up in Houston,said second-generation Africans could be key to fostering understanding between Africans and African Americans. Okere, who wrote "Other African-Americans: Two Faces of Reality From an Igbo-American Perspective," a book about his struggles to fit in both an African and African American groups, attributed the tension between the two groups to stereotypes perpetuated by media.
"Throughout time, persons have held misconceptions about others, and though there is no excuse for deviant behavior, it often may result in a small misunderstanding or lack of understanding about a person or their culture," Okere said. "But many of these odds come from images in media."
But Okere said he was hopeful that such stereotypes would be overcome as the two communities continue to see each other as more similar than different.
Listen to Amy Jeffries's related radio documentary, "Black and African."
Edwin Okong'o is a Mshale Contributing Editor. Formerly he was the newspaper's editor.





(No Ratings Yet)


Loading...