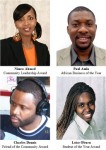 The First Annual Mshale Newspaper Community Awards are right around the corner and this is an event that you don't want to miss! On Friday August 15th, Mshale and friends will gather at the Minneapolis Airport Marriot Hotel to recognize African individuals, groups and businesses that have made a positive impact in the African immigrant community and the community at large. 
Lola Ogunnaike, Entertainment and Pop Culture Correspondent for CNN's American Morning, will be the keynote speaker. Prior to CNN, Ms. Ogunnaike's work could be seen in The New York Times, The New York Daily News, Vibe Magazine and Rolling Stone. And on air, Ogunnaike has made regular guest appearances on NBC's Today Show, MTV and VH1.
Just last week, voting closed for the Mshale Community Awards finalists and winners were selected by the community in four different categories: Community Leadership, African Business of the Year, Friend of the Community, and Student of the Year. Below are the results of the influential finalists:
Community Leadership Award
Nimco Ahmed 48%, Paul Morande 30%, Paschal Nwokocha 22%,
Student of the Year Award
Loice Oburu 42%, Crispus Ombui 34%, Joyce Okara-Aduda 24%
African Business of the Year
Paul Amla 52%, TamTam Restaurant 48%
Friend of the Community
Charles Dennis 63%, AfricaEvents.Com 37%
The African community is full of great leadership and service and now it's time to celebrate those who have made significant contributions. The black tie/African attire gala will not only recognize community leaders, but will also feature the talents of African artists like Tanzanian musician Innocent of Kilimanjaro Records. Businesses such as M&I Bank, Virtual Money, Inc., Western Union, University Travel and The Gitaa Foundation have all stepped-up to take sponsorship roles in this historic African community event.
Please join us in celebrating the contributions and services of Nimco Ahmed, Loice Oburu, Paul Amla, Charles Dennis and the African community. Tickets going fast and they are nearly sold out. The First Annual Mshale Community Awards will be a night to remember and one that is sure to inspire friends, leaders and members of the African Community. Be part of a historic evening – get your ticket today.
The First Annual Mshale Newspaper Community Awards Presented by M & I Bank will be held on Friday August 15, 2008 at 6:30pm at the Minneapolis Airport Marriott by the Mall of America. For more information or tickets, please visit the calendar section at www.mshale.com

Anna Otieno is a Special Correspondent for Mshale and reports on Faith, Politics, Health, Entertainment, and more. She enjoys various areas of media from print and television to research and analysis. She has a BA in Political Science with a focus on International Relations and an MA in Media Studies, Communication, both from Stanford University. She is also the founder and director of The Akinyi Foundation, an organization that focuses on humanitarian action by tying individual and group volunteers to domestic and international areas of need. Anna strives to disclose the most unique perspectives in life by utilizing the most creative styles. She's always in search of answers…"Always the beautiful answer who asks a more beautiful question." - e.e. cummings





(No Ratings Yet)


Loading...