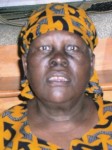 Brooklyn Park, Mn–The elderly mother of a Kenyan member of parliament, Walter Nyambati (Kitutu Masaba), has died. Naomi Osebe was 82 years old when she died last week, Tuesday,  at the Hennepin County Medical Center in Minneapolis.
Mama Naomi, as she was known in the community, was born to Bogonko Nyamongo and Martha Kerubo in 1926 in a rural town, Kisii, in Kenya. She was married to Osebe Omboto for more than 60 years. A small scale farmer for most of her life, Mama Naomi worked hard to provide and educate her twelve children.
At the end of 2000 she moved to the US for medical treatment. At the time of her death she lived with her daughter Josephine Barongo in Minnesota where she was a member of the Kenyan Community Seventh Day Adventist in Brooklyn Park.
In addition to Nyambati and Barongo, Mama Naomi is survived by her husband and nine other children: Francis Mombinya, Dorcas Mokeira, James Agasa, Gefrey Motanya, Mary Nyakerario, Teresa Bosibori, Elijah Moriasi, Peter Nyakeoga Osebe, and Eric Bogonko. She is also survived by 51 grandchildren and 26 great grandchildren.
Family and friends are meeting daily at her daughter's home in Brooklyn Park.
A memorial service and fund-raising will be held at the Kenyan Community Seventh Day Adventist Church in Brooklyn Park on Saturday, August 16th , 2008 from 5.00 pm to 8.00 pm.





(1 votes, average: 5.00 out of 5)


Loading...