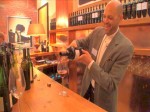 "America really no longer feels like home to me. South Africa does, and it is." 
Cora Vaughn, a successful African American litigation lawyer in Chicago, Illinois, always dreamed of living in South Africa. In fact, her mental connection to the continent was strong. But that wasn't enough – she desired a physical connection as well. Vaughn was making a million dollars a year in the United States and faced two options: stay at her lucrative practice or open a bed and breakfast in South Africa. Vaughn moved from the United States to South Africa. And she's not the only one.
Exactly what is "The American Dream"? For some it's the ability to achieve one's goals in America through the simple combination of freedom, opportunity and hard work. For others it's a notion that ironically is best fulfilled abroad. More and more African Americans are leaving the United States to chase the American dream … in South Africa. And Blacks Without Borders, a documentary produced by Stafford U. Bailey and Judy Thayer–Bailey of 20 Four Productions, has chronicled this movement by following the journey twelve African Americans who are living fulfilling lives in South Africa.
"We thought it was important to see African Americans doing extremely well – but also achieving their goals. There's more than just what's going on in The States."
Stafford U. Bailey, director and co-producer of Blacks Without Borders recently expressed the impetus behind the documentary. Too often there are missed opportunities in certain parts of the African American community – the chance to travel abroad, the ability to fairly provide for one's family, and the access to significant educational and career resources. Furthermore, this lack of opportunity has altered the scope of what many believe is possible. Bailey and Thayer-Bailey created this documentary to display the success of African Americans in South Africa as well as the beauty and opportunity within the country, overcoming the fresh memories of apartheid. The issues of South Africa such as xenophobia and the racial divide are also displayed, but in a light that shines on progress and hope. And as Judy Thayer-Bailey stated, "we thought it would be a great idea to see the side that's not seen a lot."
In 2006 and 2007, Bailey and Thayer-Bailey traveled to South Africa with cameras in tow in search of unique stories of opportunity, success and hope. They explored Johannesburg, Cape Town, Durban, Pretoria and Eastern Cape and the stories each place had to tell. Bailey and Thayer-Bailey documented the beautiful land of South Africa where certain parts resemble Beverly Hills, the delicious food, the amazing lifestyles of the twelve individuals and their families, and the businesses these folks have managed to successfully lead. Perhaps the most significant element they captured is the pain – how the country is picking up the pieces post-apartheid. It was barely fifteen years ago when apartheid was officially dismantled. But the memories are still fresh while the remnants are still present. One individual in the documentary, Charles Henderson has dedicated his life in South Africa to addressing the scars that apartheid left.
"The real beauty of my experience is being able to see people for who they really are – no matter what their background. Just being able to experience the beauty of humanity."
In 1991, after completing Harvard Business School, Charles Henderson visited South Africa to visit friends and assist in a primary health care project sponsored by Otis Elevators. In 1993 he moved to South Africa for good. Henderson is now the founder and managing director of LEAD, a business that facilitates workshops on leadership, customer service, and overcoming apartheid. And perhaps his past life uniquely parallels the struggles and turmoil of South Africa's past in such a way that he truly knows how to address the individual and collective pain. As a teenager, Henderson ran the streets of Harlem, New York and found himself addicted to drugs and caught in a dangerous lifestyle. And though the cause may be perpendicular, the effect is parallel – Henderson had to overcome his painful past in order to push towards a better life. The people of South Africa too, are doing the same.
Blacks Without Borders is a documentary, but it also aims to be a window of opportunity for African Americans of all ages. Bailey and Thayer-Bailey hope to show their documentary to teenagers as well as adults – just one glimpse may be enough to stretch the international potential of "The American Dream."
When Charles Henderson was asked about what he would like others to ultimately know about South Africa and his personal experiences, he replied, "You have to come and see for yourself, really."
So what's keeping you?
For more information please visit www.BlacksWithoutBorders.net

Anna Otieno is a Special Correspondent for Mshale and reports on Faith, Politics, Health, Entertainment, and more. She enjoys various areas of media from print and television to research and analysis. She has a BA in Political Science with a focus on International Relations and an MA in Media Studies, Communication, both from Stanford University. She is also the founder and director of The Akinyi Foundation, an organization that focuses on humanitarian action by tying individual and group volunteers to domestic and international areas of need. Anna strives to disclose the most unique perspectives in life by utilizing the most creative styles. She's always in search of answers…"Always the beautiful answer who asks a more beautiful question." - e.e. cummings





(No Ratings Yet)


Loading...