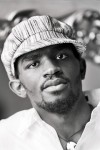 Minneapolis–Ibrahim Kaba was born in Kankan, Central Guinea, however, his childhood spent in Sierra Leone with his aunts fostered a love for poetry. While in high school, he moved to the United States where his passion for the arts through spoken word and poetry grew. Known as Ibe (a short form of his first name), this local artist has taken the twin cities cultural art scene by storm. 
While in college at St. Cloud State University Ibé wrote his first book, based on the war in Sierra Leone. He worked on another book Sonofagod. However, it is not until this summer that Ibé finally wrote and published his first book.
Aptly titled Bridge Across Atlantic, the collection of poems is an inspiration birthed off his journey from Africa into America. The book is a compilation of poems that are heartfelt, honest, powerful and reflective. The poems speak of Africa in truth. They tell of her darkness, inspire hope, bring forth love and narrate a story of life that still lives on – strong and proud – despite the hardships.
Once we were bright
Now it seems we have lost our light
But if there is a dawn to every night
Tomorrow we shall rise again
The self-published book consists of twenty poems, which according to Ibé, were as a result of wanting a short accessible book to readers. On why he chose to chronicle these particular poems, Ibé said in a recent interview with Mshale,"I admit poetry is not the easiest read. I don't expect people to read it sunbathing or anything. Poetry is meant to be savored, sipped in small doses. And I try to accommodate this. So the first I had to outline the story I wanted to tell. And I chose the poems I thought best help me tell this story. Knowing the story first, helped me narrow the poems."
Ibé is more than a poet, he is an activist who would like to engage his community in ills that affect them. In one of his poems he warns against HIV/AIDS, in yet another he brings to attention the sale of diamonds that has resulted in the bloody wars of his adopted country Sierra Leone and Liberia. In easy prose and words that flow swiftly, Ibé draws in the reader making one socially conscious.
Like the Sahara continuously stealing into West Africa
Graves are flooding our land
We're falling
Angels are falling
Angels from heaven are falling
Africans are falling.
Ibé, who in 2004 was nominated for the Minnesota Academy Award for Best Spoken Word, also portrays the land that he has called home for the past fifteen years. In captivating verse, he writes about life in America, of being black and African in America. Of the lessons learned and paths traversed. The poems – College Daze, Regrets and A Lucky Few – are interesting, bold and capture the poet's emotion. Ibé describes his poetry as story telling. "This is not just a bunch of poems put together. There is order to the madness. Like the title implies, this is an Africa to America story. The big story here is my story. It's our [Africans in America] story. We all have an action to this chain reaction."
The book is a tribute to African women, Ibé says that woman have always been the inspiration in his life. He admires their resilience and ability to move on when all odds seem stacked up against them, "I acknowledge their suffering in my work. I want them to know that this brother here feels their pain."
The book will undoubtedly inspire immigrants, and as Ibé says, "[The African in America] lives between ignorance and prejudice, One foot in the past, The other in the future. I am the present that will forever remain an enigma comprehensible to few."
————————————————————————
Bridge Across Atlantic by Ibe can be found at the following bookstores: Magers & Quinn, The Amazon Bookstore and www.amazon.com. Ibé can be contacted at ibe@atlanticrock.com. You can also read excerpts of his poems at http://atlanticrock.com.

Helen blogs on the Minneapolis nightlife and entertainment scene. You can read her entries here.





(No Ratings Yet)


Loading...