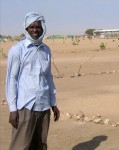 If God must break your leg He will at least teach you to limp…
In his opening line of the "The Translator: A Tribesman's Memoir of
Darfur", Daoud Hari least prepares the reader for the tragic events and
resulting heartbreak. The book chronicles Hari's life as a translator
for journalists and genocide investigators in the western Sudan region
of Darfur and the refugee camps of Chad. His experience is unbelievably
true as he comes close to death several times.
Before the war, Hari, his friends and family led a simple, but normal life. He remembers racing his favorite camel in the desert and wrestling other village youngsters under the moon after completing his chores. During wedding feasts that lasted for nights Hari fondly remembers women in his village wearing bright colors for the joyous occasions that weddings were. However, this peaceful existence was shattered by the war forcing these very women to wear drab brown clothes that blended with the desert colors for safety.
In 2003, the long festering enmity between government forces and civilians in Darfur became full range genocide. Government backed Janjaweed militia invaded and burnt Hari's village to the ground. Many people die in this conflict; young girls and women are raped. It is reported that between 200,000 and 400,000 people have been killed, another two and a half million have been displaced. Hari barely escapes. Unsafe from the rebels and his government, he begins to make his way out of the country:
It says everything about this land to know that even the mountains are not to be trusted, and that the crunching sound under your camel's hooves is usually human bones, hidden and revealed as the wind pleases.
In a harrowing tale, he describes his escape from the hands of rebels, and how he lead other survivors to the safety of refugee camps in Chad.  Using his knowledge of Arabic, English and Zaghawa, his mother tongue, Hari wages a peaceful war against his tyrants.
Hari is no stranger to death. He relives his brush with death recalling an attack on his village, where people were blown to pieces, by government forces when he was only thirteen. The book is sprinkled with witty reflections over life, living and death.
Telling his people's story becomes his sole purpose living. He becomes a wanted man for speaking the truth. Despite this, Hari helps journalists into Darfur and Chad refugee camps several times.
In 2006, Hari was guiding two-time Pulitzer winner Paul Salopek, who was reporting on the conflict in The Chad for the National Geographic, when together with their driver they captured by government forces. For months they were held captive with little food and water: during this time they were interrogated and tortured. Their captivity ends when mounting pressure from the international community forces their captors to release them.
Reading Hari's story is like having a conversation with an old friend who has been away on a long trip. He savors the tiniest of moments; like lying down on his own mattress or drinking a strong cup of tea. Throughout the book, he constantly uses the pronoun "you" when addressing the reader, making the conversation with his readers very personal. In these pages, Hari's love for life shines through. He is constantly engaging the reader in thought by strategically posing questions on friendship, family and existence.
You have to find a way to laugh a little bit each day despite everything, or your heart will simply run out of the joy that makes it go.
Despite all the hardships Hari remains optimistic, challenging the reader to choose agency over passivity.
His sense of humor is a welcome relief under the grave circumstances and the tragedy that is Darfur. When an irate militant holds a gun to his temple but his commander spares Hari's life, he recounts the joy of not being shot when he is suspected of being a spy. He reflects:
To not get killed is a very good thing. It makes you smile again and again, foolishly, helplessly, for several hours.
Hari acknowledges that he cannot tell every Darfuri story that needs telling, but breaking the shroud of silence in Darfur is one step closer to resolving the conflict. He lends his voice to those who cannot tell their stories, from the mother with three children to the father who watched his daughter get killed by the rebels. Hari humanizes the Darfur conflict from a very personal perspective; something a news report could not possible do. He brings the message of suffering in Darfur to your doorstep, urging people to take action.
Hari joins the ranks of Immaculee Ilibagiza of "Left to Tell" in telling the plight of people living under the threat of annihilation at the hands of their governments.
The Translator: A Tribesman's Memoir of Darfur by Daoud Hari. Random House. An excerpt, guides and other resources are available at www.randomhouse.com. A copy of this book is available in audio book download, e-book, hardcover and trade paper back.
Dorcas Komo is Mshale's correspondent in the Southern states of the U.S.





(1 votes, average: 5.00 out of 5)


Loading...