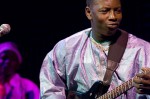 What do you expect from an ensemble of legendary musicians paying
tribute to a legend? You expect a performance that will keep you on
your feet all night with your hands in the air as you raise the roof.
Such was the night granted to patrons at the Dakota Jazz Bar and
Restaurant when saxophonist Pee Wee Ellis, horn player Fred Wesley Jr.,
singer/guitarist Cheikh Lo, singer/guitarist Vieux Farka Toure, singer
Martha High, percussionist Pappa Assane M'baye and singer Fred Ross put
their incredible talents together to present Still Black, Still Proud: The African Tribute to James Brown.
After the opening song 'Soul Pride' it was obvious that the seating arrangement, which is usually perfect for the establishment's jazz concerts was a little restrictive for some who wanted to jam to the funky soul sound from the band. Nonetheless some got up to dance while others tapped their feet and others clapped their hands. Vieux Farka Toure, son of legendary Malian musician Ali Farka Toure, headlined the second song 'Octane Road' electrifying the crowd as he strummed the chords of his guitar. The end of the song elicited a standing ovation and it was a 70s' party from then on; all that was missing was flashing strobe lights and funky hairdos.
Song by song the group enchanted the audience. The older crowd relived the seventies while the younger audience was introduced to the roots of funk They swayed to Martha High's soulful voice as she sang 'Try Me' and eagerly engaged her in a call and response echoing "ta-ti-ta-ta" when she performed "Payback". They clapped along when Senegalese sensation, Cheikh Lo together with M'baye did an African drum set and watched in awe when Lo, a slender dreadlocked man, sounded just like Brown as he sang 'This is a man's world' in English and his native tongue Wolof.
Throughout the night, former director of Brown, Pee Wee Ellis, gave a few insights on the life of Brown as he reminisced on the times they had. "In public I was to call him Mr. Brown, only in private could I say James and get a response," he joked. Ellis, who was very gracious and generous with his compliments of his mates, was perhaps the favorite of the show.  He seemed to easily hold and blow into his saxophone, only to release sweet, complex melodies and elicit a wild response from the audience. So intense was his performance that he kept standing and sitting on his chair.
Pee Wee Ellis chose to do an African tribute to the King of Funk, because of all the tributes to the renowned "King of Funk", none puts the connection between Brown and Africa. While James Brown is widely regarded as an American and European icon, few know of his ties to the continent. In the 60s and 70s he performed to many packed stadiums in Africa; most notable of these was a concert in Zaire right before the Muhammad Ali – George Foreman "Rumble in the Jungle". As much as the music of the continent influenced his style, he inspired many African artists. One such artist is the king of 'Afro Beat', Fela Kuti, who repeatedly cited the "Godfather of Soul" as a major influence in his music.
So how did the black patrons at the Dakota respond to an ensemble of legendary African and African American musicians honoring James Brown? In his likeness they echoed 'Say It Loud, I'm Black and I'm Proud.'





(No Ratings Yet)


Loading...