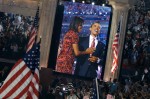 You've heard it before and it will be said again: we are witnessing history in the making. The 2008 U.S. Presidential Election is right around the corner and the Democratic Party presidential nominee is an individual who has instilled hope and optimism in the hearts and minds of all Americans, including its newest immigrants. 
Senator Barack Obama's "Yes We Can" campaign tagline has inspired thousands, including the African Diaspora – and the Diaspora is speaking back. First, second and third generation Africans in America are coming together to bring their community's issues and needs to the political forefront.
So what does this mean for Africans in the United States? For the first time, thousands of new Americans are participating in the democratic process and African support for Obama is remarkably high. From Kenya to Kansas, Cape Town to California, Africans are joining the race to support the candidate they believe has the vision and insight for a more prosperous and peaceful world.
With an urgent need for more engagement, several communities have worked to create grassroots political organizations, such as Ethiopians for Obama, Eritreans for Obama and the African Immigrant Movement for Obama. These efforts have pushed to provide voter registration drives, community briefings and panel discussions, volunteer opportunities, and an overall surge of political mobilization in African communities.
One particular organization, African Diaspora for Obama, is grabbing African representatives from across the country and building a powerful constituency base for this year's elections and beyond.
Founded in Washington, DC by a handful of inspired Africans who were born or raised in America, African Diaspora for Obama is raising awareness on Senator Barack Obama's candidacy within the African communities and creating a coalition among various African groups who represent the common concerns and needs of the African Diaspora in the United States.
Networking websites such as Facebook and YouTube are loaded with clips from African groups, as evidenced on African Diaspora for Obama's Facebook page.
So what does this mean for Barack Obama? Well, a lot. Like so many others, the African Diaspora has placed their faith in a man who is promising change … for all. It means moving the continent of Africa from the shadows of political darkness to a light of opportunity. It means indispensable perspective on diverse African issues. It means appreciating the many countries of Africa for their international contributions – past, present & future. It means recognizing the legitimacy of the African constituency in the United States. It means change. Positive change.
Sure, it's a tall order to fill but it looks like the African Diaspora is ready to lend a helping hand in the name of change.
For more information on African Diaspora for Obama, please e-mail Semhar Araia at info@AfricansforObama2008.com or visit AfricanDiasporaforObama.com

Anna Otieno is a Special Correspondent for Mshale and reports on Faith, Politics, Health, Entertainment, and more. She enjoys various areas of media from print and television to research and analysis. She has a BA in Political Science with a focus on International Relations and an MA in Media Studies, Communication, both from Stanford University. She is also the founder and director of The Akinyi Foundation, an organization that focuses on humanitarian action by tying individual and group volunteers to domestic and international areas of need. Anna strives to disclose the most unique perspectives in life by utilizing the most creative styles. She's always in search of answers…"Always the beautiful answer who asks a more beautiful question." - e.e. cummings





(No Ratings Yet)


Loading...