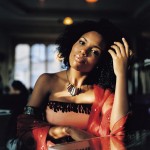 In spite of the difficulties in obtaining travel visas for international artists visiting the United States, some musicians are still touring from Africa and Europe and elsewhere around the globe. 

Cape Verdean singer, Lura, in circumnavigating our present level of national security, brings her alluring sound to the Twin Cities next week. She performs at the Dakota Jazz Bar in downtown Minneapolis on October 15th with a pair of shows in one night.
Born in Portugal to Cape Verdean parents, her website says that Lura is part of a new generation of musicians rediscovering the hidden traditions of her ancestral homeland. Her music is inspired by the styles of Santiago—the island from which her father came; Lura plays styles such as batuku and funana.
Rob Simonds, Executive Director of the Cedar Cultural Center, dedicated to bringing diverse world music to Minneapolis describes the value of these international musical acts. "[These musicians] that tour the U.S. are often the very top virtuosos of that particular musical discipline so not only are they giving us the opportunity to see and hear a different culture, they do so through a very high level of artistic excellence," says Simonds.
Additionally, these artists who bring us first-class entertainment, also provide a cultural exchange that can further benevolent feelings between the musical patrons and the musicians.
Simonds explains, "Music provides an often meaningful window into other cultures. It can connect people on a very basic level, and the more we connect with others, the more it enriches us and the greater the likelihood of understanding and cooperation."
This month the Dakota Jazz Bar & Restaurant provides us with Lura, next month we'll have another chance to hear some African music when Malian kora player Toumani Diabaté plays at the Cedar on November 13th.
Lura's shows: 7pm ($25) and 9:30pm ($20)
Wednesday, October 15th, 2008
Dakota Jazz Club
1010 Nicollet, Minneapolis, MN 55403
(612) 332-1010
Susan is based in Minneapolis and reports on general assignments for Mshale with a focus on entertainment. In addition to reporting, she is also a writer, poet, teacher and coach.





(No Ratings Yet)


Loading...