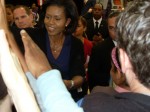 St. Paul, MN, Oct. 13, 2008 — Michelle Obama was in Minnesota
campaigning on behalf of her husband at a rally held at Macalester
College that drew thousands of students, volunteers, local DFL
candidates and voters of all ages. 
Michelle talked about her middleclass upbringing and her hardworking parents who wanted nothing more than to provide for their family and give their children more than what they had—a good college education to achieve the American Dream. She talked about Barack's background: how he was raised by a single parent and how his mother struggled to provide for her family, sometimes taking food stamps to make ends meet.
"Barack had said from the beginning that this election is not about him; it was never about him. This election is about you all," Michelle said pointing to the crowd.
"The issues in this election is not just politics, it's personal for all of us."
She said that Barack understands because he has lived it; from healthcare issues he faced with his mother, to growing up with a single parent and not having much, to taking on student loans to get an education.
"Barack gets it," she said.
Michelle said that only one candidate has the experience and perspective of everyday, middleclass folks: Barack Obama. She said that Barack has given this election everything he's got and will continue to do so until the very end but he cannot get the job done on his own.
"This is where we come in. The rest of it is on us. Help us get out the vote and this time let's send a leader to Washington who gets it. Vote Barack Obama for the next President of the United States of America!" Michelle said.
Attendees to the rally were greeted at the entrance by R.T. Rybak, Mayor of Minneapolis, and Al Franken, Democrat comedian-turned politician who is running for the Minnesota US Senate office.
Addressing the crowd, Amy Klobuchar, Minnesota State Senator, told the crowd that Barack Obama is "cool, collected and steady at the helm", and that it was time to put the future of this country in his hands. Also in attendance were St. Paul's Mayor, Chris Coleman and other local DFL candidates.
The Obama Campaign district leaders reminded the crowd that "each one of us has the awesome capacity to bring about change," and that with a few more weeks to go, volunteers are needed more than ever to help make calls and knock on doors to Get Out the Vote.

"We do not want to wake up on November 5th and think that we could have done more," one campaign volunteer said. Audience members were asked to take out their cell phones and text "MN 62262" to family and friends to get them connected to the campaign.
Minnesota teenager, Natalie Miller, introduced Michelle Obama to the stage. Miller talked about her family's encounters with health problems including the cost of care. She said that she [a kid] worried about how much her illness was costing her parents and believed that it was her fault that her parents were accumulating so much debt. "People dealing with health problems should be worrying about getting well, not how much it is going to cost," Miller said.
According to Obama for America, the official website of Barack Obama 2008 Presidential Campaign, Barack believes that if Americans can put an end to partisan politics, bring people together, and recognize that what unites us is greater than what divides us—then we can make fundamental change possible in this country. Whether it is ending the Iraq war, providing universal health care, making college tuition more affordable, placing a quality teacher in every classroom, or expanding economic opportunity in urban areas and making "equal justice under the law" a reality for every citizen, one can have confidence in the courage, sound judgment, and leadership of Barack Obama.
Rita Apaloo is the founder of African Women Connect, a networking organization based in Minneapolis.





(No Ratings Yet)


Loading...