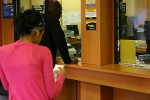 NEW YORK – In a store in the Bronx that smells of unrefrigerated raw fish, a middle-aged Ghanaian woman is rummaging in her purse for money.
She, like hundreds of other Ghanaians in New York, comes to money transfer rooms inside African grocery stores like Eddie's Place, to send money back home to Ghana. But as the economy crashes in the United States, the remittances are shrinking even as the need is as great as ever.
"You hear what my auntie said?" asks Prince, who is manning the money transfer room, its door covered with phone card ads – Home Boy, Black Horse, Hamburger and Bang Bang. "School's begun in Ghana and she has two kids there. They're saying 'Send the money, send the money.' All her money from this week's work is going for their school there." The woman nods in agreement before handing over a stack of mostly $20 bills.
"Take it easy, auntie, take it easy," says Prince, in a comforting tone, as he counts the $510, including the $10 transfer fee.
"That's right," she says, resigned, as she picks herself up and starts to walk out of the store.
It's a scene that is replicated at money transfer centers across the city. The crisis on Wall Street is trickling down to West Africans sending money to families back home. According to the 2000 Census, 96,000 of the 3 million foreign-born New Yorkers are of African origin. Many of them live in New York City: Highbridge in the Bronx, south of Corona in Queens, or Flatbush in Brooklyn.
When money is short, remittances drop or become less frequent. For those who try and send the same amount home, it means life in the United States gets that much tougher. "Banks' interest rates have gone down and the cost of living has gone up," says Ivy Quarshie, secretary general of the National Council of Ghanaian Associations and a projects manager at J.P. Morgan. "Money transfer will continue, but there's not enough savings."
According to a report on Ghana by the Department of International Development in the U.K., remittances to Ghana from individuals and NGOs accounted for more than 13 percent of that country's Gross Domestic Product in 2003. That's four times the foreign direct investment from multinational companies. Sending money back home is an integral part of the African Diaspora lifestyle and is not restricted to one's immediate relations.
"In Ghana, when we say family, we talk about wife, kids, siblings, parents, uncles and their families. If every family sends one person out of the country, I say you can save the entire country," says Ebenezar Nkrumah, a nurse assistant at the Manhattan Eye, Ear and Throat Hospital.
Nkrumah supports his wife, children and parents who live in Tamale, in northern Ghana. But something has got to give. "I owe my landlord rent for two months," he says.
Local businesses are trying to entice new customers. Family Link Money Transfer matches exchange rates with competitors and has been offering free phone cards for customers after every transaction. People send an average of $100 per transaction according to Nana Owusu-Manu, the firm's marketing manager. The city's four options, Western Union, Moneygram, Vigo, and Family Link, all have roughly the same transaction fees. Family Link used to get 35 to 40 customers per day at its head office. That has now dropped to about 15 customers.
But not all remittances go through an agent. "Many people bypass transaction fees by having people at both places," says Sidique Wai, president of the United African Congress and community relations specialist at the New York Police Department. This is largely facilitated by individuals who travel between the two countries, and can carry cash for friends and family or to a delivery man back in Ghana. Family Link's Owusu-Manu advises against this. "The black market always causes the exchange rate to fluctuate," he says, agitatedly, before touting Family Link's relations with more than 100 Ghana Commercial Bank offices in Ghana.
But despite the difficulties and due to societal pressures, people rarely stop sending money. "They are all building mansions in Ghana but living in small holes here," says Kweku, the owner of an African grocery store near LeFrak City, Queens. As a result, they are poorer. "Life is not a rehearsal. This is it! Live it out," says Kweku, trying to advise them.
But many West Africans are pragmatic about the economic crisis. "If money is not injected, it will affect the entire economy," says Quarshie at J.P. Morgan, feeling that government intervention and market oversight are the right solutions for the future. "You can't give mortgage loans of $300,000 to someone who makes $20,000. Blame goes all around."
That won't address Faustina Larbi's current predicament though. The caregiver is next in line at Prince's money transfer counter. "My daughter is getting married, and I have to send $1500. What am I going to do? I'm going cuckoo!" she exclaims.





(No Ratings Yet)


Loading...