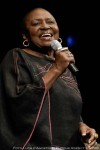 Legendary South African musician and activist, Miriam Makeba died early Monday morning in an Italian hospital.
Makeba, fondly known as Mama Afrika by her fans, was an icon in the fight against South Africa's apartheid government. She used her music to expose the actions of her oppressive government.
She suffered many tragedies, including the death of her 26-year old daughter from complications from a miscarriage. The South African government shunned Makeba, forcing her to live in exile in the US, and Guinea for 31 years.
In 1965, Makeba was the first black African woman to receive a Grammy Award. She was known internationally for her tremendous voice. And when she sang, her voice carried itself to the soul of those listening. She has performed with legends such Harry Belafonte, Hugh Masekhela, Nina Simone and Dizzy Gillespie, and Paul Simon.
Her musical influences were South African township rhythms which she grew up with, jazz and American folk which she acquired when she lived in the US.
Even in her death, Makeba continued to fight for justice. She collapsed while performing at a concert to support Italian writer Roberto Saviano in his stand against a mafia organization.
In a public statement, Nelson Mandela had the following to say;
The sudden passing of our beloved Miriam has saddened us and our nation.
For many decades, starting in the years before we went to prison, Miriam featured prominently in our lives and we enjoyed her moving performances at home.
Despite her tremendous sacrifice and the pain she felt to leave behind her beloved family and her country when she went into exile, she continued to make us proud as she used her worldwide fame to focus attention on the abomination of apartheid.
The music world has lost a legend. Africa has lost a mother.
Her haunting melodies gave voice to the pain of exile and disclocation which she felt for 31 long years.
At the same time, her music inspired a powerful sense of hope in all of us.
Even after she returned home she continued to use her name to make a difference by mentoring musicians and supporting struggling young women.
One of her more recent projects was to highlight the plight of victims of land mines.
She was South Africa's first lady of song and so richly deserved the title of Mama Afrika.
She was a mother to our struggle and to the young nation of ours. It was fitting that her last moments were spent on a stage, enriching the hearts and lives of others – and again in support of a good cause.
—————————————————————
Her most famous songs: Pata Pata, Malaika, and The Click Song.
<object width="425″ height="344″><param name="movie" value="http://www.youtube.com/v/e-VrfadKbco&hl=en&fs=1″></param><param name="allowFullScreen" value="true"></param><param name="allowscriptaccess" value="always"></param><embed src="http://www.youtube.com/v/e-VrfadKbco&hl=en&fs=1″ type="application/x-shockwave-flash" allowscriptaccess="always" allowfullscreen="true" width="425″ height="344″></embed></object>
Her autobiography written in 1988 can be found on Amazon.com. Makeba: My Story by Miriam Makeba with James Hall (New American Library, NY)





(No Ratings Yet)


Loading...