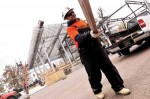 Oscar Amaya regrets not being able to vote in the presidential election, but is consoled by the knowledge that he is part of a historic event. The Salvadoran, a native of San Vicente, is one of six Latinos helping to build the podium in front of the White House from which Barack Obama will witness the inaugural parade, after being sworn in as the new president at the Capitol on Jan. 20.
"As a Latino you feel very proud to play a small role in the inauguration of the next president," said Amaya, who immigrated to the country eight years ago and is covered under Temporary Protected Status (TPS). "That's why I couldn't vote," he explains.
Amaya, his brother Jose Amaya and his nephew Marcial Amaya are working on the project, which began immediately after the election.
They are members of the Laborers' International Union of North America's (LIUNA) Local 657.
"Our union has helped build the White House podium for many years," said LIUNA representative Jhunio Medina on Dec. 3. In all, about 30 workers, including carpenters, locksmiths, welders and supervisors, are working on the platform, Medina said.
Preparation for the inauguration officially began on Sept. 24 with the ceremony of hammering the first nail on the platform at the Capitol. They also did repair work along Pennsylvania Ave.
The historic day will begin with a procession from the White House to the Capitol. Barack Obama and Joseph Biden will be sworn in on the 10,000-square-foot platform on the west side of the Capitol.
Then the president and vice president will join the parade from the Capitol to the White House, along Pennsylvania Ave.
When they arrive, they will stand on the podium that Latinos from LIUNA are building.
"For us it's an honor to be part of such an important historic event. We'll be able to tell our children that we helped build the podium in front of the White House for the first African-American president of the United States," Medina said.
Meanwhile, bearing the increasingly harsh cold from 6 a.m. to 6 p.m., the workers continue to construct bleachers for the long-awaited event that is estimated to draw about 1.5 million people.





(No Ratings Yet)


Loading...