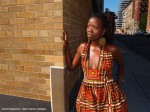 Miriam whispers in my ear and my heart
On November 10th, the world woke up to the tragic news of the legendary Miriam Makeba. 
Laura Audrey Kabasomi "Somi" Kakoma, a jazz musician based in New York, has been described as a modern day Miriam Makeba. Born in the US, of East African parents, Somi's music is deeply influenced by African vocal sounds and instruments.
Her "heart heavy with the news" of Makeba's demise she wrote the following tribute in honor of her mentor, Miriam Makeba.
when i remember last night
i feel the warm embrace of old friends.
bright beads of proud african decadence:
laughter, tears, introspection, and celebration –
the atmosphere.
miriam whispers in my ear and my heart
and i hope she's dancing.
oh, how i wish i'd had the chance to tell her
how her journey inspired me
to sing my own stories.
she was the ORIGINAL.
it doesn't get any hipper or more courageous than
an african woman
touring the world in the 1960s
all breath and truth-telling
if she wasn't here then, would i be here now?
when i remember last night
i feel the swelter of a packed room
nodding heads dressed in light and shadow
the slap of palm to drum
a shekere meets the roar of applause
meets the sudden hush of ears
longing to hear her have the last word.
and i am humbled, grateful, and inspired:
malaika nakupenda malaika
Listen to Somi's music here.





(No Ratings Yet)


Loading...