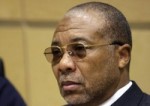 Liberian immigrants had mixed reactions to a ruling in a Miami court
that sentenced Chuckie" Taylor, the son of former President Charles
Taylor to 97 years in federal prison for his conviction last year on
charges of torture and human rights violations.
"The punishment doesn't fit the crime, it is excessive and disproportionate," said a Minnesota-based Liberian community leader, who sought anonymity for fear of repercussions from the community.
In a telephone interview, he said: "Chuckie was not a central figure in the war, his crimes pale in comparison to the egregious acts committed by many warlords and their foot soldiers that are running around scot free in Minnesota and Monrovia."
"I am glad that the Liberian people have finally received some justice," said Nyeah Ukatu, a Liberian immigrant living in Boston, Mass.
The case is the first of its kind in the United States, which is based on a 1994 law that makes it a crime for citizens, legal residents (Green Card holders), or visitors in the U.S. to commit torture overseas, regardless of nationality.
"It is hard to conceive of any more serious offense against the dignity and the lives of human beings," said U.S. District Judge Cecilia Altonaga as she imposed the sentence. "The international community condemns torture."
Charles McArthur Emmanuel Taylor, also known as "Chuckie", was born in Boston in 1977 and therefore an American citizen. He was found guilty in October 2008 on charges that he headed a paramilitary 'Anti-Terrorist Unit', which became notorious for carrying out heinous acts of violence against civilians, while his father ruled Africa's oldest republic from 1997 – 2003.
The younger Taylor was convicted on five counts of torture, one count of conspiracy to torture, one count of using a firearm during the commission of a violent crime and one count of conspiracy to use a firearm during the commission of a violent crime. Prosecutors had asked for a 147-year sentence.
"This case sends an important message that those who commit human rights violations will be held accountable and that the United States is not a safe haven for torturers," said Robin Phillips, executive director of the Advocates for Human Rights in a prepared statement.
"It is a great precedent and we hope that the new administration [U.S.] will continue to enforce the law against all those who have perpetrated these human rights abuses," she said.
Federal immigration authorities arrested Taylor in 2006 as he tried to slip into the U.S. from the Caribbean island of Trinidad & Tobago; a day after his father was arrested trying to flee Nigeria. He was initially charged with passport fraud and pleaded guilty. On the day before his sentencing, he was indicted on rights violations against seven men in Liberia.
During the trial, witnesses accused Taylor, 31, of  summarily executing four men and playing a direct role in beatings and using burning plastic, hot water and electric shocks to torture his victims. One victim testified that he was placed naked in a pit as fire ants (red ants) were shoveled over his body. Many of the victims he allegedly tortured were among the witnesses who testified against him behind obscured screens to protect them from possible retaliation.
Taylor's lead defense lawyer, Miguel Caridad, said many of the witnesses were not credible. He said witnesses lied and exaggerated their stories to win political asylum in the U.S., or to settle political scores.
Caridad argued that his client — who arrived in Liberia at age 17 – may have thought such atrocities were "standard operating procedure" in a violent civil war and that he was vulnerable to pressure from his powerful father.
"The defendant's life has been destroyed by a perfect storm of circumstances not of his own making," Caridad said.
But Assistant U.S. Attorney Caroline Heck Miller rejected that argument.
"The defendant argues that he should be excused because numerous other individuals have gotten away with torture, and because he was unfortunate in his parental origins, but he never accepts responsibility," she said.
Chuckie Taylor is the only person to date who has been tried and convicted for crimes committed during the violent 14 year Liberian conflict that killed nearly 300 thousand people and displaced over a million.
The elder Taylor is on trial in The Hague, Netherlands for war crimes by the United Nations-backed Special Court for Sierra Leone.
The former president, whose trial began last year, is accused of supporting the infamous rebel group – Revolutionary United Front – that went on a diamond-fueled rampage, in neighboring Sierra Leone, of killing, chopping off limbs and rape during that country's civil war. He denies 11 charges of war crimes and crimes against humanity.

Wynfred Russell is a former faculty of the Department of African American & African Studies at the University of Minnesota-Twin Cities, where for six years he taught African history and culture. He has also taught African history and multicultural education at North Hennepin Community College and Century College. Russell is currently the Director of Normandale Community College's Center for Multicultural Services. 





(No Ratings Yet)


Loading...